Maximize performance, reduce risk by employing expert design
Meet project expectations by designing your field networks right from the very start
Design and engineering of a field network can be a challenge. Experience has shown that doing it right puts you on the fast track in the execution phase and considerably reduces any risk. Getting it wrong means spiraling costs, delay and inefficiency. Why not get it right from the start by engaging us as a highly competent partner? You can be assured that we will deliver high quality services which meet your expectations and specific project requirements.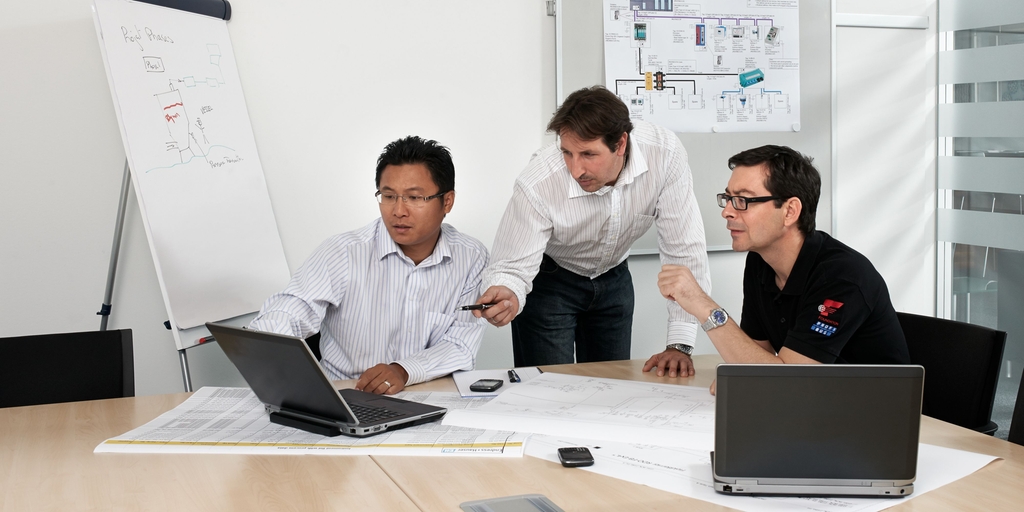 Our design and engineering services pave the way to success
The start of a project is a very sensitive time, when correct decisions will keep the project on schedule and in budget. Correct design and engineering ensure that technology proven for the application is used, the best instruments and network components are selected and that all field networks are designed in accordance to project guidelines. We also help with the design specifications and provide all documentation necessary for installation and validation. Do you need a better start?
Benefits
Partner with proven field network experience that has worked on many projects, often together with other vendors

Project completed on schedule and within budget thanks to the use of standardized procedures

Efficiency increased, project risks reduced by up to 30% and engineering time reduced by up to 50% by proven best-practice project guidelines for fieldbus technology

High quality and total conformance with project guidelines, thanks to well-tested methods and specifications

Speedy installation and validation due to comprehensive documentation provided at project hand-over
Downloads
Field Network Engineering

Building a new plant? Extending or modernizing an old one? Reduce risk and capital expenditure by working with the competent partner for fieldbus and wireless projects.
Related offering
Inventory Management Solutions

Inventory Management Solutions help you to reduce inventory costs, improve customer satisfaction and increase productivity. Unlock the true potential of your supply chain with Endress+Hauser.

Plant Asset Management

For increased efficiency, higher plant availability and reduced operating costs, our plant asset management solution holds the key!
Simple products

Easy to select, install and operate
Technical excellence
Simplicity
Standard products

Reliable, robust and low-maintenance
Technical excellence
Simplicity
High-end products

Highly functional and convenient
Technical excellence
Simplicity
Specialized products

Designed for demanding applications
Technical excellence
Simplicity
FLEX selections
Technical excellence
Simplicity

Fundamental selection

Meet your basic measurement needs

Technical excellence

Simplicity

Lean selection

Handle your core processes easily

Technical excellence

Simplicity

Extended selection

Optimize your processes with innovative technologies

Technical excellence

Simplicity

Xpert selection

Master your most challenging applications

Technical excellence

Simplicity
Success stories

Process automation projects

Process automation projects - deliver your next project on time and within budget. Read how we handle your projects based on harmonized processes.

DC Values app - access to thousands of DC values

The Endress+Hauser DC Values app is a database for several thousands of DC values. You can search and use the DC values for the correct commissioning of radar and capacitive measuring devices.

Lifetime accuracy of flow measurement

The calibration cycle starts in our factories. After installation in your plant, the devices measure with the highest accuracy. In order to maintain this level calibration services help you profit.