Efficiency in your CIP Clean in place processes
Reduce product loss and energy costs
As raw material and energy cost rise, asset utilization within food & beverage plants become even more crucial. Many food processors still operate clean in place systems with little automation, relying on a purely timing-based process and manual verification. Installing inline instrumentation provides real-time monitoring and control which helps reduce cleaning time, energy and detergents while providing full traceability.
Chúng tôi cung cấp
We understand your challenges in demanding CIP applications and provide you a full line of hygienic, sanitary measurement solutions. Our proven portfolio of flow, level, pressure, temperature and analytical instrumentation is manufactured to the highest quality standards and meets all food & beverage requirements and regulations. We provide you:
Ensure cleanability with compliance to 3-A, FDA and EHEDG

Reduced energy cost and downtime

Robust, reliable and industry-optimized instrumentation

Seamless integration into any control platform

Innovative self-diagnostics to ensure full confidence in measurements
What you can do
Click through these maps and learn in detail how you can reduce product loss and energy costs in your CIP processes!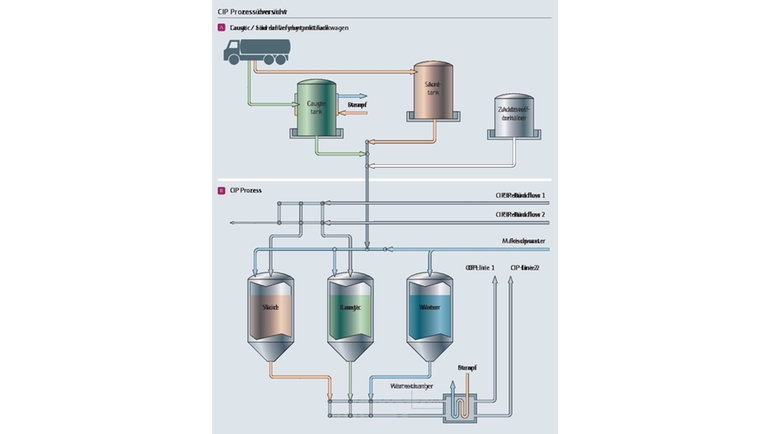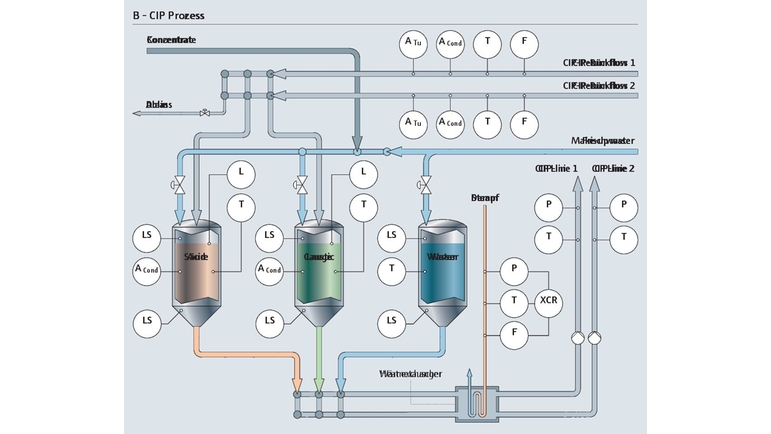 Lợi ích
Our employees have together with our customers achieved remarkable results in improving CIP efficiency. Strong industry and application expertise as well as our broad product portfolio ensure first time success. Endress+Hauser's goal is to be a reliable partner in all aspects.
25-30%

time saving for each CIP cycle.

30%

reduced chemical usage by using optical technologies in phase separation.

>100

countries benefit from our application and industry competence.
Câu chuyện thành công
Tìm hiểu về những câu chuyện thành công trong ngành gần đây nhất của chúng tôi, những lưu ý ứng dụng và báo cáo nghiên cứu chuyên sâu.
Hiệu quả

Wastewater treatment in the food industry

The food and beverage industry primarily uses water as a raw material for cleaning and in production. Potential for optimization lies in the prevention, monitoring and treatment of wastewater.

Đọc toàn bộ câu chuyện

Có sẵn

Instrument standardization in projects

Reduction of cost for commissioning and warehousing with instrument standardization

Đọc toàn bộ câu chuyện

An toàn

Ensure food safety in your production

To ensure a safe food supply chain, food producers and their partners must implement safe production policies and procedures that comply with food regulations and standards.

Đọc toàn bộ câu chuyện