Optimize your dairy processing
Ensure high quality dairy processing with accurate process control
Dairy production is a business with tight margins and high quality expectations. Milk processes can be optimized for cost control while keeping the product quality at a consistently high level. Thermal processing is of the utmost importance for dairy production, consumer safety and efficiency. The control of thermal processing is highly regulated and system must run at correct temperatures. Consider that running 2 degree Celsius over the setpoint can cost over 4000 Euro/year in wasted energy.
Chúng tôi cung cấp
Endress+Hauser understands your challenges in demanding dairy production. We offer a complete basket of approved flow, level, temperature, pressure and analytical instruments designed and manufactured specifically for all global requirements for product safety and customer health in the food & beverage industry.
Ensure cleanability with compliance to 3-A, FDA and EHEDG standards and regulations

Reduced energy costs and downtimes

Industry-optimized, robust and reliable instrumentation

Seamless integration into any control platform
What you can do
Click through these maps and learn in detail how you can optimize your dairy production!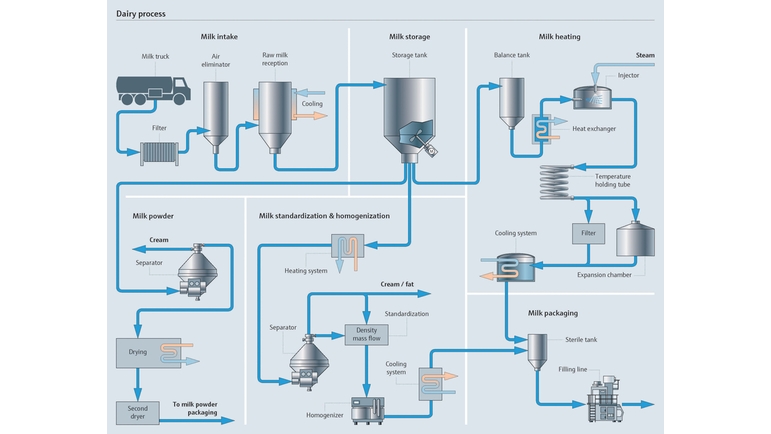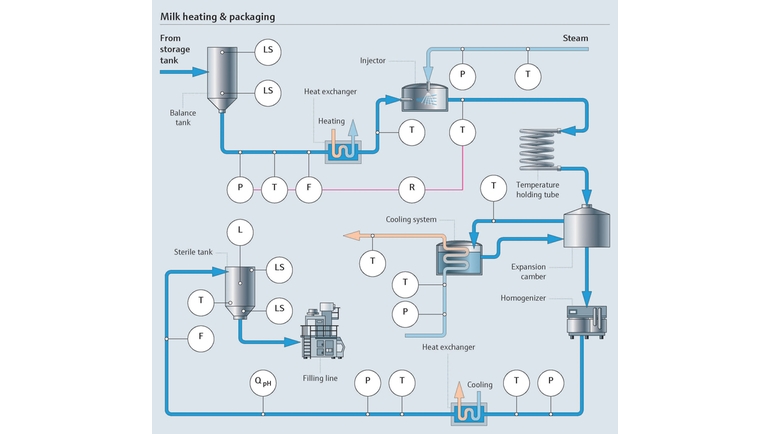 Lợi ích
Apart from our industry expertise and broad product portfolio, we want to support our customers with valuable process knowledge. We will help to ensure that all local and international requirements are met. The promise to be a reliable partner is our goal. We strongly believe in long-lasting relationships with our customers, not just the short range profit.
0.75sec

response time (t90). iTHERM QuickSens offers the shortest response times in the market.

1.7M

Proline Promag installations over 35 years.

>7,800

patents and patent applications from Endress+Hauser.
Câu chuyện thành công
Tìm hiểu về những câu chuyện thành công trong ngành gần đây nhất của chúng tôi, những lưu ý ứng dụng và báo cáo nghiên cứu chuyên sâu.
Hiệu quả

Efficiency in your CIP Clean in place processes

Efficiency in your CIP Clean in place processes

Đọc toàn bộ câu chuyện

Hiệu quả

Wastewater treatment in the food industry

The food and beverage industry primarily uses water as a raw material for cleaning and in production. Potential for optimization lies in the prevention, monitoring and treatment of wastewater.

Đọc toàn bộ câu chuyện

Có sẵn

Instrument standardization in projects

Reduction of cost for commissioning and warehousing with instrument standardization

Đọc toàn bộ câu chuyện