Proline Promass I 100
Coriolis flowmeter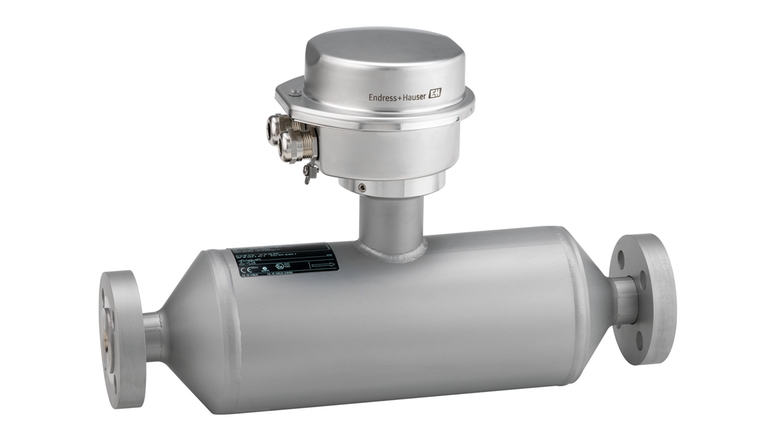 Combines in-line viscosity and flow measurement with an ultra-compact transmitter
The straight single-tube design of the Promass I 100, provides the regular Coriolis flowmeter outputs of mass flow, density and temperature, additionally it provides in-line viscosity measurement as an optional output.
Combined with the smallest transmitter housing available today it delivers full performance on the smallest footprint. Promass I 100 will be the preferred choice for system integrators, skid builders and equipment manufacturers.
Chọn nhanh
Chọn theo đề xuất của chúng tôi
Công cụ lựa chọn mã thiết bị
Tiếp tục lựa chọn từ tất cả tùy chọn có thể
Lợi ích

Energy-saving – full bore design enables minimal pressure loss

Fewer process measuring points – multivariable measurement (flow, density, temperature)

Space-saving installation – no in/outlet run needs

Space-saving transmitter – full functionality on...
Phạm vi ứng dụng

Measuring principle operates independently of physical fluid properties such as viscosity or density

Measuring liquids and gases in applications requiring low pressure loss and gentle fluid treatment.

Device properties

Straight, easy cleanable single-...
Tài liệu / Tài liệu hướng dẫn / Phần mềm
Phụ kiện / Phụ tùng thay thế
Nr

47

Order code

71185785

Kit Ex-i barrier

Usage: Promass 100, CNGmass, LPGmass, LNGmass.

Nr

45

Order code

71185787

Kit connection terminal for Ex-i barrier

Usage: Promass 100, CNGmass, LPGmass, LNGmass. Consists of: 2x Connection terminal 4-Pol.

Nr

30

Order code

XPD0005-

Electronic Promass/Cubemass 100

Main electronic module

Nr

39

Order code

71185788

Kit T-DAT, 100/300/400/500/500 digital

Usage: Promag/Promass 100/300/500, 500 digital, Prosonic Flow E 100, Prosonic Flow/t-mass 300, 500 digital, Promag 400(C). (C) = generation index C.

Nr

50

Order code

XPD0023-

Display module, 4-wire, 100

Usage: Promag 100, Promass 100, Prosonic Flow E 100.

Nr

21

Order code

71185789

Kit cover, compact, Alu

Usage: Promass 100, Promag 100, Prosonic Flow E 100/E Heat, CNGmass, LPGmass, LNGmass. Consists of: Cover Aluminium, coated. O-Ring 113,90 x 3,53 NBR for cover.

Nr

21

Order code

71185790

Kit cover, compact, stainless 1.4301

Usage: Promass 100, Promag 100, Prosonic Flow 100. Consists of: Cover stainless 1.4301. Gasket EPDM for cover.

Nr

21

Order code

71185793

Kit cover,ultra compact,stainless 1.4301

Usage: Promag/Promass 100, Promag/Promass 500 digital, sensor connection housing. Consists of: cover stainless 1.4301, gasket EPDM for cover.

Nr

20

Order code

71266334

Kit cover, sight glass, compact, Alu

Usage: Promass 100, Promag 100, Prosonic Flow E 100/E Heat. Consists of: Cover with sight glass Aluminium, coated. O-Ring 113,90 x 3,53 NBR for cover.

Nr

20

Order code

71266335

Kit cover, sight glass, compact, 1.4301

Usage: Promass 100, Promag 100, Prosonic Flow 100. Consists of: Cover with sight glass stainless 1.4301. Gasket EPDM for cover.

Nr

20

Order code

71266337

Kit cover,sight glass,ultra comp.,1.4301

Usage: Promass 100, Promag 100. Consists of: Cover with sight glass stainless 1.4301. Gasket EPDM for cover.

Nr

70

Order code

71185795

Kit housing gaskets, compact, Alu

Usage: Promass 100, Prosonic Flow E 100/E Heat, CNGmass, LPGmass, LNGmass. Consists of: O-Ring 113,90 x 3,53 NBR for cover. Gasket EPDM for housing/sensor.

Nr

70

Order code

71185797

Kit housing gaskets, compact, stainless

Usage: Promass 100, Prosonic Flow 100. Consists of: Gasket EPDM for cover. Gasket EPDM for housing/sensor.

Nr

70

Order code

71185799

Kit hous.gaskets,ultra compact,stainless

Usage: Promass 100, Promass 500 digital, sensor connection housing. Consists of: gasket EPDM for cover, gasket EPDM for housing/sensor.

Nr

15

Order code

50098036

Kit 10 cable glands M20x1.5 Ex

Nr

15

Order code

71069285

Kit 2 cable glands M20x1.5 INOX Ex

Nr

15

Order code

50098041

Kit 10 ext. M20x1.5/G 1/2" (plug PVC)

Nr

15

Order code

71185802

Kit 2 cable glands G1/2" INOX Ex

Consists of: 2 x Extension M20x1,5/G1/2" 1.4404. 2 x O-Ring. 2 x Sealing plug G1/2".

Nr

15

Order code

50098042

Kit 10 ext. M20x1.5/NPT 1/2" (plug PVC)

Nr

15

Order code

71185800

Kit 2 cable glands NPT1/2" INOX Ex

Consists of: 2 x Extension M20x1,5/NPT1/2" 1.4404. 2 x O-Ring. 2 x Sealing plug NPT1/2".

Nr

12

Order code

71276494

Kit securing clamp, screw

Usage: Promass 100, Promag 100, Prosonic Flow E 100/E Heat, CNGmass, LPGmass, LNGmass. Sensor housing: Promag 400(C), (C) = generation index C, Promag/Promass 500, Promag/Promass/Prosonic Flow/t-mass 500 digital. Consists of: cover clamp, screw M4x16.

Spare RFID TAG

Consists of: RFID TAG, fixing wire, crimp sleeve.

Promass sensor, heating jacket, DK8003

Heating medium (e.g. water, steam)