Dosimag
Electromagnetic flowmeter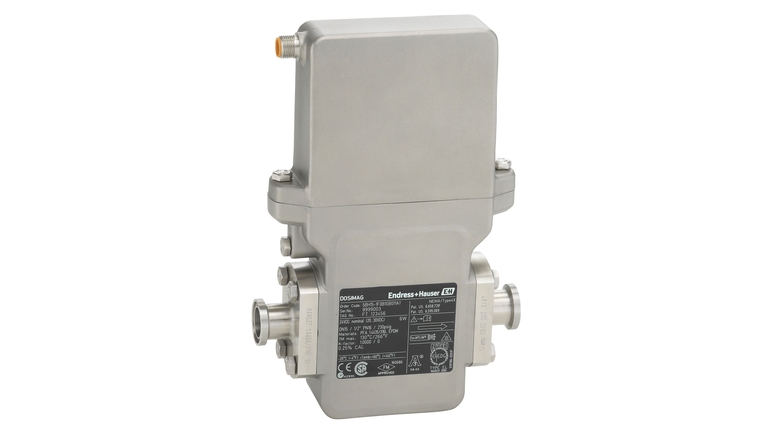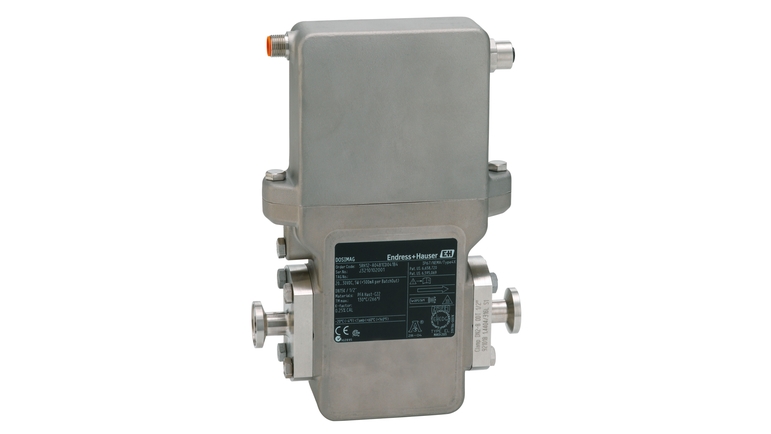 Flowmeter with hygienic design, highest repeatability and an ultra-compact sensor
Dosimag is specially designed for filling and bottling applications of conductive liquids. It measures volume directly. Designed for applications where space is a premium, Dosimag will be the preferred choice for system integrators, skid builders and equipment manufacturers.
Sản phẩm đơn giản

Dễ lựa chọn, cài đặt và vận hành
Công nghệ vượt trội
Đơn giản
Sản phẩm tiêu chuẩn

Đáng tin cậy, mạnh mẽ và ít bảo trì
Công nghệ vượt trội
Đơn giản
Sản phẩm cao cấp

Chức năng cao và tiện lợi
Công nghệ vượt trội
Đơn giản
Sản phẩm chuyên dụng

Dành cho các ứng dụng đòi hỏi cao
Công nghệ vượt trội
Đơn giản
Lựa chọn FLEX
Công nghệ vượt trội
Đơn giản

Lựa chọn Fundamental

Đáp ứng nhu cầu đo lường cơ bản

Công nghệ vượt trội

Đơn giản

Lựa chọn Lean

Xử lý dễ dàng các quy trình cốt lõi

Công nghệ vượt trội

Đơn giản

Lựa chọn Extended

Tối ưu hóa quy trình bằng công nghệ tiên tiến

Công nghệ vượt trội

Đơn giản

Lựa chọn Xpert

Làm chủ các ứng dụng khó khăn nhất

Công nghệ vượt trội

Đơn giản
Tổng quan về thông số kỹ thuật

Max. measurement error

±0.25 % o.r. ± 1 to 4 m/s (3.3 to 13 ft/s)
±0.5 % o.r. ± 1 mm/s (0.04 in/s)
±5 % o.r.

Measuring range

0.14 to 1.66 l/s (0.035 to 0.44 gal/s)

Medium temperature range

Seal material EPDM: –20 to +130 °C (–4 to +266 °F)
Seal material Silicone: –20 to +130 °C (–4 to +266 °F)
Seal material Viton: 0 to +150 °C (+32 to +302 °F)

Max. process pressure

Wetted materials

Liner: PFA
Electrodes: 1.4435 (316L); Alloy C22, 2.4602 (UNS N06022), Tantalum,
Platinum
Chọn nhanh
Chọn theo đề xuất của chúng tôi
Công cụ lựa chọn mã thiết bị
Tiếp tục lựa chọn từ tất cả tùy chọn có thể
Lợi ích

High process safety – high measuring accuracy and repeatability in shortest filling time

Energy-saving flow measurement – no pressure loss due to cross-section constriction

Maintenance-free – no moving parts

Versatile and time-saving wiring – plug connector

Industry-optimized – ultra-compact design

For...
Phạm vi ứng dụng

The bidirectional measuring principle is virtually independent of pressure, density, temperature and viscosity

For demanding dosing and filling applications.

Device properties

Wetted materials CIP, SIP cleanable

Nominal diameter: DN 4 to 25 (1/8 to 1")

Measuring device conform to FDA

Pulse/...
Tài liệu / Tài liệu hướng dẫn / Phần mềm
Phụ kiện / Phụ tùng thay thế
FXA service adapter Batchline packed

Adapter FXA291 Dosimag/Dosimass packed

Commubox FXA291 (Hardware)

Serial USB Computer Interface Technical Data: - USB Version1.1 or higher - Power supply via USB - IP51; NEMA/Typ 3 - Ambient temperature: -20....+60oC - Ex: II(2) G (EEx ia) II C - ATEX: BVS 05 ATEX E 095 Scope of deliovery: Commubox FXA 291 MS Windows USB driver Device is submitted for CSA/FM application. The device may not be modified and may be used with intrinsically safe circuits with corresponding characteristics only (see safety certificate).

Dosimag OEM-Version

Electromagnetic flowmeter for filling applications (compact version) PFA measuring tube lining Housing in stainless steel

Promag H, mounting set

A mounting set includes 2 process connections incl. screws and the corresponding seals.

Promag H/Dosimag, seal set

Promag H, adapter set

Replacement of sensor Promag A or Promag H DN 25. The set includes 2 adapters and 2 seals. For dimensions refer to the technical documentation.

Serviceinterface FXA193

The service interface connects the service port of Proline and ToF devices with the serial interface RS 232C (9 pin.) of a personal computer. Contents of delivery: - Serviceinterface with RS 232C connection cable (9 pin.) - FXA "USB" cable, the additional power supply for FXA193 from USB-port of the PC.
Câu chuyện thành công
Reliable calibration using hydrocarbons

On the new factory calibration rig from Endress+Hauser, Wintershall Dea can now calibrate Promass F with hydrocarbons as legally mandated – a significantly cheaper option than on-site calibration.

Build-up monitoring

A water treatment plant in Germany faced the problem of unexpected downtime due to clogged water wells. With Heartbeat Technology build-up index the customer now monitors iron build-up in his process.