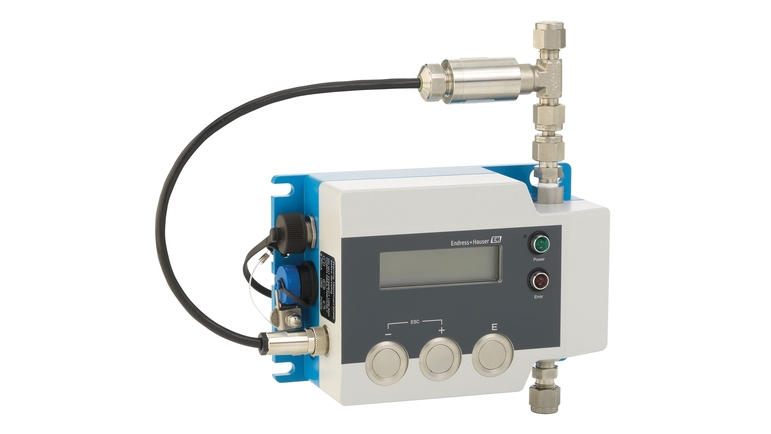 The device for continuous gas density measurement in the process
Nanomass Gas Density is the first device for precise gas density measurement based on the revolutionary MEMS-Coriolis technology – a combination of innovative micro-technology and Endress+Hauser's long experience. For the first time, under economically attractive conditions parameters such as gas density or quality can be monitored continuously in the process. Nanomass Gas Density can be easily integrated into any existing process infrastructure.
Chọn nhanh
Chọn theo đề xuất của chúng tôi
Công cụ lựa chọn mã thiết bị
Tiếp tục lựa chọn từ tất cả tùy chọn có thể
Lợi ích

High process safety and product quality – permanente process monitoring in real time

Increased process efficiency – continuous measurement and fast response time

High availability – maintenance-free

Complete data transparency – integrated data logger

...
Phạm vi ứng dụng

Measuring principle operates in a density range 0 to 30 kg/m³, considering temperature and pressure

Highly accurate density and concentration measurement of non-corrosive, inflammable, non-inflammable gases and gas mixtures.

Device properties
Tài liệu / Tài liệu hướng dẫn / Phần mềm
Phụ kiện / Phụ tùng thay thế
Kit power cable 5m/15ft,connector molded

Usage: Nanomass DCEB-

Kit power supply plug, 2-pin

Usage: Nanomass DCEB-

Kit service-cable 2m/6ft, plug RS232

Usage: Nanomass DCEB-

Kit plug Output; Input, 2x 4-20mA

Usage: Nanomass DCEB-

Kit ground terminal

Usage: Nanomass DCEB- Consists of: 1x Headless screw M 4X20, 1x Retaining clip, 1x Cap nut M 4, 1 x Screw M 4 x12 torx, 1x Nut M 4 x0.8D, 2x Spring washer M 4, 1x Clamp strap M4 1.4404, 1x Plate for ground terminal 1.4404.

Kit ground terminal

Usage: Nanomass DCEB- Consists of: 1x Headless screw M 4X20, 1x Retaining clip, 1x Cap nut M 4, 1 x Screw M 4 x12 torx, 1x Nut M 4 x0.8D, 2x Spring washer M 4, 1x Clamp strap M4 1.4404, 1x Plate for ground terminal 1.4404.

Nr

10

Order code

71291186

Kit 2x tube fitting Swagelok 1/4"

Usage: Nanomass DCEB- Consists of: 2x connector, 2 x coupling nut, 4 x clamping ring.

Kit 3x spare filter cartridge

Usage: Nanomass DCEB-

Kit Pipe mounting, Nanomass

Kit Tabletop stand, Nanomass