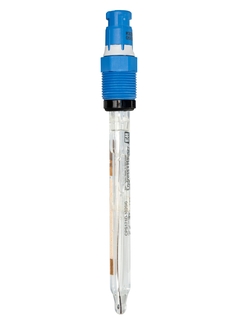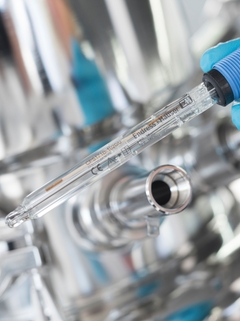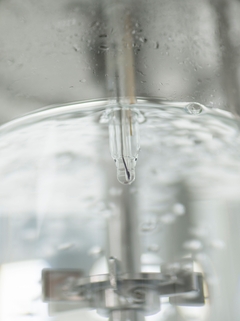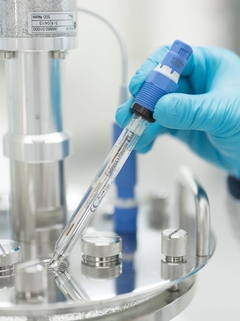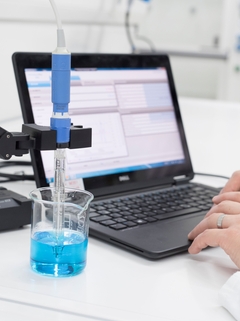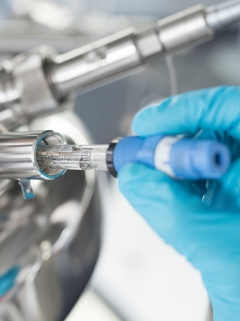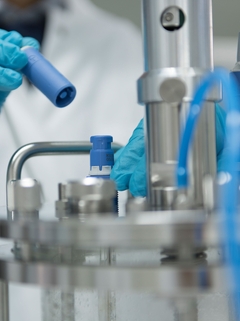 Tổng quan về thông số kỹ thuật
Process temperature

0 to 135 °C (32 to 275 °F)

Process pressure

1 to 7 bar abs (14.5 to 101.5 psi)
Phạm vi ứng dụng
Keep the pH value of your batch in the optimum range and maximize your product yield with Memosens CPS171D. Thanks to its rugged design and long-term stability, it provides extremely accurate, reproducible and reliable measuring values even after CIP/SIP and autoclaving. Memosens CPS171D is not the latest Memosens generation. To get information on the new Memosens CPS61E sensor with extended functionality, click here.
Memosens CPS171D measures pH in:
Biotech and pharma industries
- Bioreactors/fermenters: process control in enzyme production
- Bioreactors/fermenters: control of culture growth

Food & Beverages
- CIP/SIP applications
With its international explosion protection approvals, such as ATEX and IECEx, the digital sensor is suitable for hazardous area use.
A pharma certificate of compliance with sensor serial number specified is available.
Lợi ích
The sensor's exceptional accuracy, reproducibility and reliability helps you to keep the pH value in the optimum range for a maximized product yield.

A specialized glass membrane and reference system makes the sensor CIP/SIP and autoclaving resistant (up to 140°C/284°F) offering maximum long-term stability.

Thanks to the Memosens technology, the cable connection cannot be affected by moisture or corrosion: you can count on the sensor's highest availability and your batch is safe.

The sensor protects your product quality with its certified biocompatibility according to USP class VI, FDA compliance of wetted parts, no cytotoxicity, bioreactivity or animal-based materials.

The sensor provides you with process and sensor data that allows you to decide if the sensor is ready for the next batch or should be replaced - a big improvement for your product safety.

Streamline maintenance of CPS171D with the Memobase Plus software that automatically stores and documents all relevant sensor and process data.

Approved for hazardous area use.
Lựa chọn Extended
Sản phẩm cao cấp

Chức năng cao và tiện lợi
Công nghệ vượt trội
Đơn giản
Loading alternative products
Câu chuyện thành công
Boiler water monitoring made easy

With the SWAS Compact Panel, the continuous monitoring of quality parameters such as pH and conductivity in cheese production can be automated and simplified.

Advanced bioprocess control

From time consuming sample analysis to real-time monitoring of critical parameters in fermentation processes thanks to complete solutions from hardware to development and analytical services.

Compliance made easy

The automated phosphate monitoring with Liquiline System CA80PH helps the food company Pasfrost ensure the compliance with the strict limit values for its industrial wastewater.
Sản phẩm đơn giản

Dễ lựa chọn, cài đặt và vận hành
Công nghệ vượt trội
Đơn giản
Sản phẩm tiêu chuẩn

Đáng tin cậy, mạnh mẽ và ít bảo trì
Công nghệ vượt trội
Đơn giản
Sản phẩm cao cấp

Chức năng cao và tiện lợi
Công nghệ vượt trội
Đơn giản
Sản phẩm chuyên dụng

Dành cho các ứng dụng đòi hỏi cao
Công nghệ vượt trội
Đơn giản
Lựa chọn FLEX
Công nghệ vượt trội
Đơn giản

Lựa chọn Fundamental

Đáp ứng nhu cầu đo lường cơ bản

Công nghệ vượt trội

Đơn giản

Lựa chọn Lean

Xử lý dễ dàng các quy trình cốt lõi

Công nghệ vượt trội

Đơn giản

Lựa chọn Extended

Tối ưu hóa quy trình bằng công nghệ tiên tiến

Công nghệ vượt trội

Đơn giản

Lựa chọn Xpert

Làm chủ các ứng dụng khó khăn nhất

Công nghệ vượt trội

Đơn giản
Bạn cũng có thể quan tâm
Sản xuất cảm biến: độ chính xác trong thủy tinh

Độ chính xác của một điểm đo phụ thuộc vào cảm biến Các thiết bị và chuyên gia về cảm biến của chúng tôi đảm bảo cung cấp cho Khách Hàng những cảm biến chất lượng cao với độ chính xác tuyệt đối.