Thickener optimization to reduce your production costs
Integrated online monitoring improves concentrator performance
Easy monitoring of data from all critical measuring points at a concentrator will help you increase plant availability, process safety and energy savings.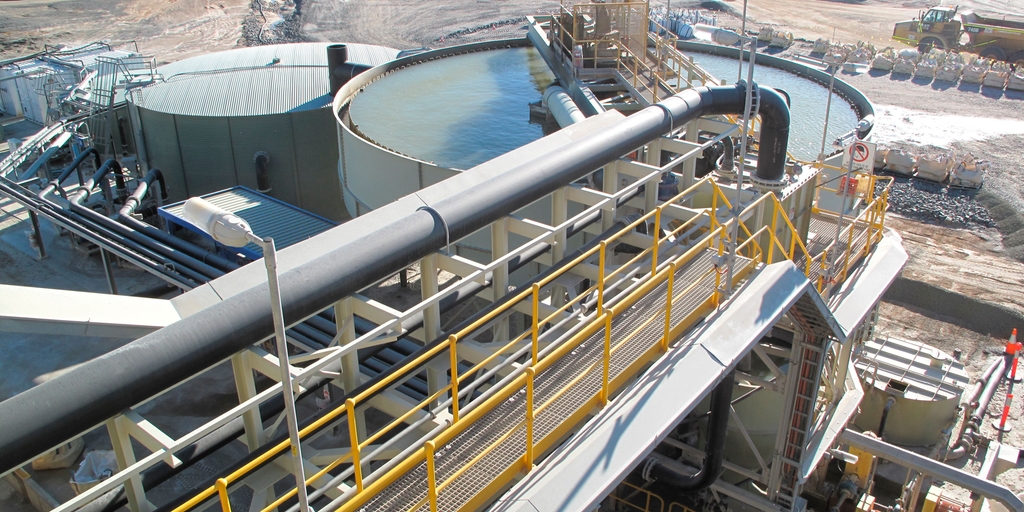 Benefits at a glance
Underflow density increased from 55% to 60 -66%

Better water utilization

Reduced cyanide to tailings

CTD beach angles increased from zero to ~2

Significantly enhanced tailings storage capacity
Your challenge
In the thickener process there are many critical key performance indicators that show how the process is running – all of which need to be measured accurately and reliably. Hydraulic pressure, bed height and bed mass are some of the critical measuring points, as well as underflow density, underflow rate, overflow clarity and dry solids feed rate. The challenge for the customer is to have all of this data monitored and controlled to gain an efficient thickening process.
Our solution
For the best outcome in the thickening process, Endress+Hauser offers an integrated package that optimizes concentrator efficiency. The recommended combination of the main instruments (Prosonic T FMU30, Promass F 200, Cerabar M PMC51, Promag 55S, Liquiline CM44x, Turbimax CUS71D, Orbipac CPF81D, Indumax CLS50D and Oxymax COS51D) make all the difference. Also, an all-inclusive service portfolio helps support you locally in securing the availability of your plant.
Instrumentation for level, pressure and flow
Prosonic T FMU30 ultrasonic level sensor measures and controls the rake height

Cerabar M monitors the rake torque

Promass F 200 or Dosimass coriolis flow meter doses flocculant in relation to bed mass

Cerabar M PMC51 with retractable cleaning assembly monitors bed mass

Promag 55S and Gammapilot M measures the underflow, slurry density and solids concentration
Instrumentation for analytical
Liquiline transmitter CM42 (2-wire with 2 sensor input) or

Liquiline CM44x with up to 8 sensors (4 bed level+4 other)

Turbimax CUS71D submersible Ultrasonic level sensor with cleaning assembly

Turbimax CUS51D particle settling rate sensor

Orbipac CPF81D pH sensor with CYA 112 mounting assembly

Indumax CLS50D Conductivity sensor for sulphuric acid concentration measurement

Oxymax COS51D for oxygen concentration in biological separation tanks
Application details 1
Rake torque & lift: For hydraulic rake drives, the hydraulic pressure needs to be measured to monitor process problems like insufficient underflow pump rate or blocked discharge outlets. This generates either a shutdown or the rake lift to lower the torque.
Bed Height: Bed height is often singled out and is the most valuable parameter because it reports the position of the settled bed. This feedback is analyzed and sent back to alter the flocculant gram/tonne solid feed set point.
Application details 2
Bed Mass: Reporting the inventory of settled solids inside the thickener is done with a pressure transmitter that senses the rising bed mass. The sensor is fitted in the discharge cone and can control the underflow slurry pump speed to achieve a constant bed mass. The surface of any sensor in contact with the slurry medium must be resilient to abrasive particles and be cleaned regularly due to sticky build up.
Application details 3
Underflow Density: To control the final percentage of solids, a non- invasive nucleonic density meter is mounted along the underflow outlet pipe work. The underflow density is important in maintaining stable operation and avoiding tailings block in the thickener discharge outlet.
Underflow rate: A volumetric in-line flow meter can interact with a density meter and the flow meter presents a dry solids mass flow rate of the total tailings slurry volume that goes to disposal.
Application details 4
Overflow Clarity: For quality assurance and final confirmation of the water clarity, a turbidity sensor monitors the solid particle carry over.
Dry solids feed rate: To be used as a feed forward signal for the flocculant dosing control loop, a pair of nucleonic density and inline flow meter can be installed. This predicts the flocculant dosing based on what dry solids feed is expected to enter, and not just reacting to what happens with the bed level and bed mass.