Making a clean job of it at Emmi
Efficient wastewater treatment with Oxymax COS61D in the Sequencing Batch Reactor of a dairy
Thanks to optimum regulation of the aeration system in the SBR (Sequencing Batch Reactor), milk processor Emmi is making energy savings of 40-50% in the wastewater preclarification process.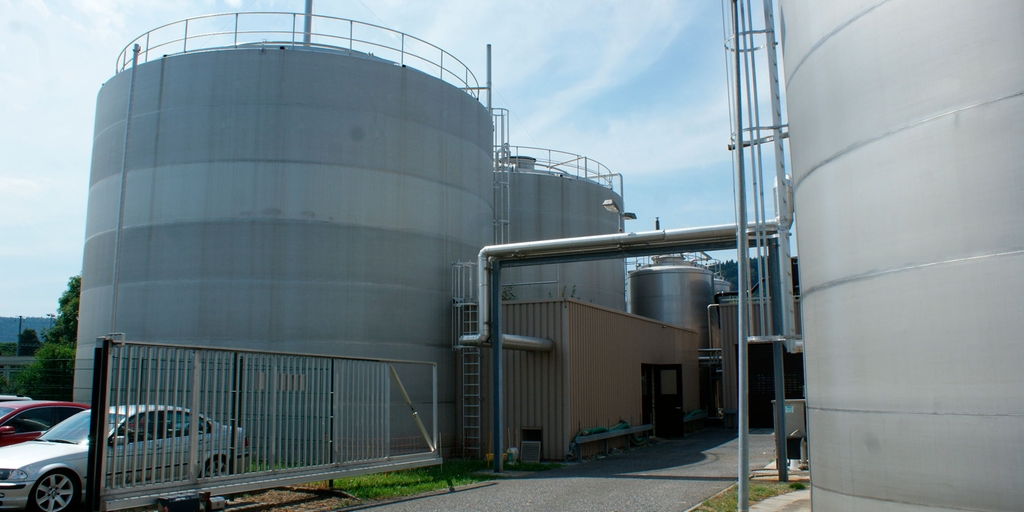 Benefits at a glance
40–50% energy savings in the wastewater treatment process thanks to precise regulation of the oxygen pumps

Cost savings across the entire process

Emmi's concept of sustainability is backed up by long service intervals and the systems' high degree of stability

Simultaneous monitoring of multiple measuring points and parameters using multichannel
transmitters

The energy-rich sludge can eventually be used in the production of biogas

The Oxymax is low-maintenance, robust and reliable – it's a top-class sensor.
Challenges
The company is committed to minimizing the burden its production activities place on the environment. The objectives were therefore:
Sustainable wastewater clarification with a reduction of over 95% in chemical oxygen demand (COD)

along with considerable energy savings.
This meant reducing the high COD load of 5,000 mg/l to approx. 300 mg/l in the ICR (Internal Circulation Reactor) located upstream, and subsequently reducing it to approx. 15mg/l in the SBR.
Our solution
At Emmi, Endress+Hauser systems guarantee an efficient cleaning process in the SBR:
The digital and optical Oxymax COS61D sensor ensures rapid, continuous measurement of oxygen levels in the wastewater.

The multichannel Liquiline CM44 transmitter transfers the values to the control room.
The result is that the cleaning process is supported in a reliable way, and the cost-intensive supply of oxygen is limited. Parallel pH monitoring by Orbisint CPS11D sensors prevents fermentation from occurring.
Simple products

Easy to select, install and operate

Technical excellence

Simplicity

Standard products

Reliable, robust and low-maintenance

Technical excellence

Simplicity

High-end products

Highly functional and convenient

Technical excellence

Simplicity

Specialized products

Designed for demanding applications

Technical excellence

Simplicity

FLEX selections
Technical excellence
Simplicity

Fundamental selection

Meet your basic measurement needs

Technical excellence

Simplicity

Lean selection

Handle your core processes easily

Technical excellence

Simplicity

Extended selection

Optimize your processes with innovative technologies

Technical excellence

Simplicity

Xpert selection

Master your most challenging applications

Technical excellence

Simplicity