Proline Prosonic Flow 93W
Ultrasonic flowmeter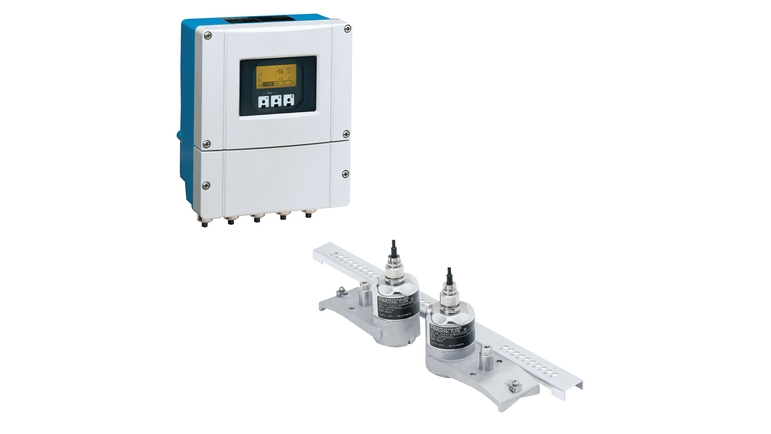 Device with automatic frequency scan for max. measuring performance with a wide range of outputs
The Prosonic Flow W clamp-on sensor was specially designed for water and wastewater applications. Combined with the Prosonic Flow 93 transmitter with touch control, four-line display and extended functionality, Prosonic Flow 93W offers high accuracy in standard applications in the water industry.
Chọn nhanh
Chọn theo đề xuất của chúng tôi
Công cụ lựa chọn mã thiết bị
Tiếp tục lựa chọn từ tất cả tùy chọn có thể
Lợi ích

Low capital investment – cost-effectiveness increases with pipe diameter (up to DN 4000)

Long-term stable signal - maintenance-free permanent mounting from outside with coupling pads

Process transparency – diagnostic capability

Highest performance –...
Phạm vi ứng dụng

The measuring principle is independent of pressure, density, temp., conductivity, viscosity

Clamp-on flow measurement of process water, salt water, demineralized water, drinking & wastewater

Device properties:

Medium temperature: –20 to +80 °C (-4 to +...
Tài liệu / Tài liệu hướng dẫn / Phần mềm
Phụ kiện / Phụ tùng thay thế
Kit power s.b. PSONIC9X 85-260VAC

Kit P.s.b. PSONIC9X 20-55VAC16-62VDC

Kit 10 fuses 250 VAC T800 MA

Kit 10 fuses 250 VAC T 2A00

Kit amplifier 93 1CH WEA EX

Language: FR,ES,IT,NL,PT,DE,EN

Kit amplifier 93 1CH EES EX

Language: SV,FI,NO,RU,PL,CS,EN

Kit amplifier 93 1CH SEA EX

Language: JA,ID,EN

Kit amplifier 93 1CH CN EX

Language: ZH,EN

Kit amplifier 93 2CH WEA EX

Language: FR,ES,IT,NL,PT,DE,EN

Kit amplifier 93 2CH EES EX

Language: FR,ES,IT,NL,PT,DE,EN

Kit amplifier 93 2CH SEA EX

Language: JA,ID,EN

Kit amplifier 93 2CH CN EX

Language: ZH,EN

Kit com 53/55/83/93 curr./freq. out Ex

Kit commodul current/freq./2Relay Ex

53/55/83/93/65

Kit I/O Profibus PA Ex

50/53/55/80/83/93/65

Kit I/O 93 Profibus DP C13 Ex

Kit I/O Profib. DP+Stat.In 2 Interf. Ex

53/55/83/93

Kit I/O Foundation Fieldbus C02 Ex

53/55/83/93

Kit I/O Foundation Fieldbus C14 EX

53/55/83/93/65

Kit Commodul current out 3 Interface Ex

53/55/8X/93/65

Kit display modul Wall enclosure

53/55/83/84/93/8CN/8DF

Kit connec.plate 90/93 1CH wall enclo.

Kit connec.plate 93 2CH wall enclo.

Nr

12

Order code

50096840

Kit 10 cable glands M20x1,5

Nr

12

Order code

50098042

Kit 10 ext. M20x1.5/NPT 1/2" (plug PVC)

Nr

12

Order code

50098041

Kit 10 ext. M20x1.5/G 1/2" (plug PVC)

Nr

12

Order code

50098037

Kit Cable gland Profibus PA

Nr

12

Order code

50094984

Kit Cable gland Found. Fieldbus

Kit Ground terminal / Cover clamp

Kit 2 Screening sheet wall enclo.

Prosonic Flow 93, retro fit kit In/Out

Sensor pair-40...80oC Prosonic F DDU18

Sound velocity measuring sensors for Prosonic Flow 93; sensor pair for measurement of sound velocity in the fluid.

Sensor pair0...170oC Prosonic F DDU 18

Sound velocity measuring sensors for Prosonic Flow 93; sensor pair for measurement of sound velocity in the fluid.

Sensor 0...60oC Prosonic Flow DDU 19

Wall thickness measuring sensor for Prosonic Flow 93P and 93W; sensor for measuring pipe wall thickness.

Overview auxiliary equipment see spare part picture

Prosonic Flow 93, transmitter

Prosonic Flow W, flow sensor set

For use with Prosonic Flow 90/91/93

Prosonic Flow 91/93/93T,sensor cable set

Prosonic Flow W/P, sensor holder set

Prosonic Flow W/P, install.set Clamp On

Only use with Prosonic Flow 91 and 93 transmitter.

Prosonic Flow W, install. set insertion

Only use with Prosonic Flow 90 and 93 transmitter.

Prosonic Flow 91/93 W/P, conduit adapter

Transmitter 91/90/93, Mounting set

Prosonic Flow 93, software package

Software kit

Prosonic Flow, coupling medium

Usage: Prosonic Flow 91W/93W/93P