IO-Link communication
Digitalization of the last mile
Smart Ethernet devices like valve islands, remote IOs, recorders, liquid analyzers or flow measurement devices are digitalized with Industrial Ethernet, e.g. PROFINET or EtherNet/IP. Basic devices also become digitally accessible with IO-Link: This makes offline parametrization, data transparency and plug-and-produce device exchange available for all devices.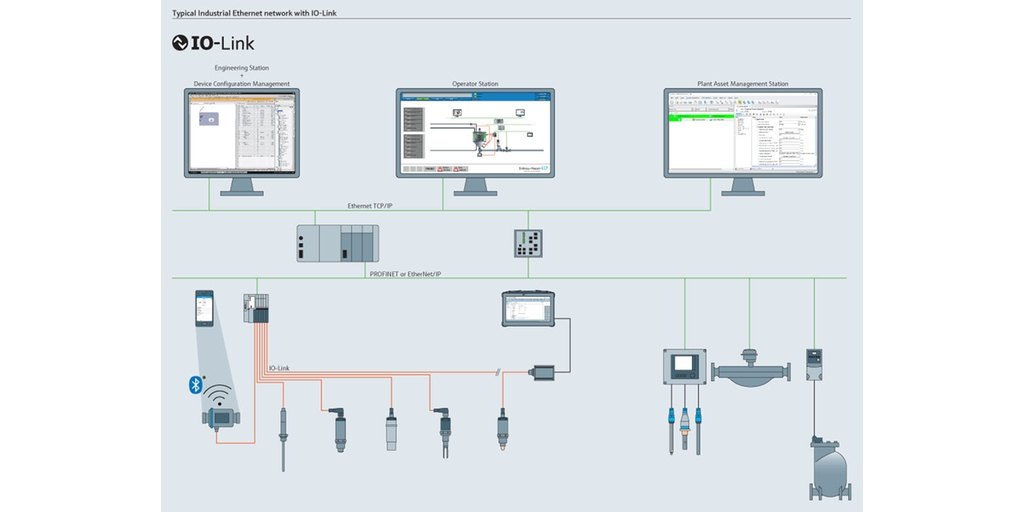 Lợi ích
Plug-and-produce device exchange

Time-saving parameterization using the engineering system, no need for additional software. Comprehensive access to device, diagnostics and process information. Fast data upload/download for maintenance and service.

Simple operation

Time-saving Endress+Hauser operating concept. Optimal usability through guided parameterization. User-specific menu structures and device access.
All Endress+Hauser IO-Link products are tested and certified according to IO-Link Version 1.1. The technology is proven in practice with a rapidly growing installed base worldwide.
Further technology related information is provided on the IO-Link website.
Discover more benefits for engineers, operators and maintenance personnel on an additional IO-Link technology page from Endress+Hauser.
A small preview of our IO-Link product portfolio:
Sản phẩm

Sản phẩm đơn giản

Dễ lựa chọn, cài đặt và vận hành
Công nghệ vượt trội
Đơn giản
Sản phẩm tiêu chuẩn

Đáng tin cậy, mạnh mẽ và ít bảo trì
Công nghệ vượt trội
Đơn giản
Sản phẩm cao cấp

Chức năng cao và tiện lợi
Công nghệ vượt trội
Đơn giản
Sản phẩm chuyên dụng

Dành cho các ứng dụng đòi hỏi cao
Công nghệ vượt trội
Đơn giản
Lựa chọn FLEX
Công nghệ vượt trội
Đơn giản

Lựa chọn Fundamental

Đáp ứng nhu cầu đo lường cơ bản

Công nghệ vượt trội

Đơn giản

Lựa chọn Lean

Xử lý dễ dàng các quy trình cốt lõi

Công nghệ vượt trội

Đơn giản

Lựa chọn Extended

Tối ưu hóa quy trình bằng công nghệ tiên tiến

Công nghệ vượt trội

Đơn giản

Lựa chọn Xpert

Làm chủ các ứng dụng khó khăn nhất

Công nghệ vượt trội

Đơn giản
Tải
Competence Brochure IO-Link

Digitalize your plant with IO-Link. Smart Ethernet devices are digitalized with Industrial Ethernet, e.g. PROFINET or EtherNet/IP. Basic devices also become digitally accessible with IO-Link:

| | |
| --- | --- |
| Cỡ tập tin: | |
| Tên tập tin: | |