113GHz+Your Wavelength
Respond to your process applications with the right frequency
From the sum of 113GHz, we respond to any of your applications with the appropriate radar frequency. In terms of engineering, we supply the complete portfolio of radar instruments to optimize your process automation. Working closely with you, we tune into your wavelength to understand what exactly it is that you need for your specific processes.
Lợi ích
Fit for purpose level measurement solutions increase efficiency, quality and safety

Personal consultation helps us understand your needs thoroughly so we can help you choose the right instrument for your application.
Advantages of 1GHz
The guided radar is suitable for applications involving foam and low dielectric constant values
Enables interface measurement, gas phase compensation, bypass applications
Advantages 6GHz
Suitable even in turbulences and strong condensate
Stilling well applications
Advantages 26GHz
Suitable for 90% of applications
Precision even with turbulence
Advantages 80GHz
Best focusing with 3° emitting angle
Large measuring range up to 125 m
Highest accuracy with 0.5 mm (Micropilot NMR81)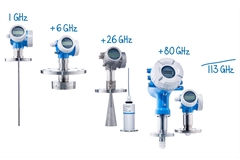 Level beyond radar
Sometimes, a completely different measuring principle takes your processes to the next level. Therefore, we offer a complete portfolio of technologies including vibronic, ultrasonic, capacitance, hydrostatic, gamma, electromechanical and more.