Ultrasonic measurement
Time-of-Flight
Prosonic FMU44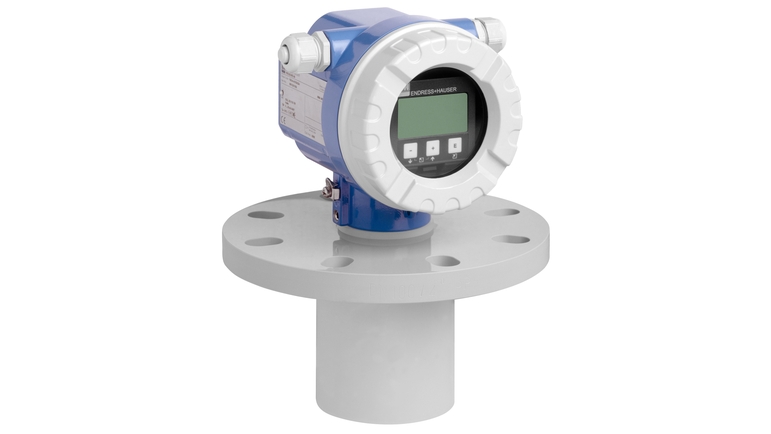 Cost effective device for sophisticated level measurement in liquids and bulk solids for up to 20m
The Prosonic FMU44 sensor is suited for non-contact level measurement in fluids, pastes, coarse bulk material and flow measurement in open channels or at weirs. The two-wire or four-wire compact transmitter can be used in applications with storage tanks, agitators, on stockpiles and conveyor belts. The envelope curve can be shown on the on-site display for simple diagnosis. Linearization function (up to 32 points) for conversion of the measured value into any unit of length, volume or flow rate.
Chọn nhanh
Chọn theo đề xuất của chúng tôi
Công cụ lựa chọn mã thiết bị
Tiếp tục lựa chọn từ tất cả tùy chọn có thể
Lợi ích

Reliable non-contact measurement

Quick and simple commissioning via menu-guided on-site operation with four-line plain text display, 7 languages selectable

Envelope curves on the on-site display for simple diagnosis

Hermetically sealed and potted sensor

...
Phạm vi ứng dụng

Two-wire or four wire instrument for continuous non-contact level and flow measurement.

Process connection: Flange

Temperature: -40 to +80°C (-40 to +176°F)

Pressure: +0.7 to +2.5bar (+10 to +36psi)

Maximum measuring distance: Liquids 20m (66ft),...
Tài liệu / Tài liệu hướng dẫn / Phần mềm
Phụ kiện / Phụ tùng thay thế
Instrument plug M20-M12 "PA" (WDM)150

4-pin metall plug for installation in the device, providing connection to a T-Box (WDM) or cable socket (WDM). Cable length: 150mm. Not suitable for PROMAG and PROMAG.

Nr

12

Order code

535720-9020

Set of screws housing F12/T12/F23

Consists of: 1x stop screw M5x10. 1x retaining screw M8x10. Usage: FMR230/FMR231, FMR240/FMR244/FMR245, FMR250, FMU40/FMU41/FMU42/FMU43/FMU44.

Nr

65

Order code

52010526

Sealing kit FMU4x

Consists of: 1x O-ring 113.9x3.53 EPDM. 1x O-ring 72.0x3.0 EPDM. 1x O-ring 49.21x3.53 EPDM. 1x flat gasket 47x58x2 EPDM. 1x flat gasket 59x68x2.5 EPDM. 2x O-ring 17.0x2.0 EPDM. Usage: FMU40/FMU41/FMU42/ FMU43/FMU44.

Nr

20

Order code

517391-0011

Cover F12/T12 Alu, coated, gasket

Material: aluminium, coated. O-ring EPDM. Usage: FMR230/FMR231, FMR240/FMR244/FMR245, FMR250, FMU40/FMU41/FMU42/FMU43/FMU44.

Nr

20

Order code

52005936

Cover F12/T12 Alu, window, gasket

Material: aluminium. Usage: VU331, housing F12/T12, Micropilot M/S, Prosonic M, Levelflex M.

Nr

11

Order code

52006026

Cover terminal compartment F12/F23

Hood terminal compartment. Usage: Micropilot M, Prosonic M, Levelflex M.

Nr

11

Order code

52019062

Cover terminal compartment F12/F23,FHX40

Hood terminal compartment. Usage: separate display, Micropilot M, Prosonic M, Levelflex M.

O-ring 113.9x3.63 EPDM, 5 pieces

Usage: cover T12/F12/F23.

Nr

35

Order code

52006197

Terminal module 4-pole, HART, 2-wire

Cable connection. Usage: housing F12/F23, Micropilot M, Levelflex M, Prosonic M.

Nr

35

Order code

52012156

Terminal module 4-pole, PA, FF

PROFIBUS PA, FOUNDATION Fieldbus. Usage: Micropilot II/M, Prosonic M, Levelflex M.

Nr

35

Order code

52013304

Power supply 10.5-32VDC (housing F12)

Usage: electronics 4-wire, Levelflex M, Prosonic M.

Nr

35

Order code

52013305

Power supply 90-250VAC (F12), Ex only

Usage: electronics 4-wire, Levelflex M (Non-Ex and Ex), Prosonic M (Ex only).

Nr

35

Order code

52015585

Power supply CSA, 10.5-32VDC (housg F12)

Usage: electronics 4-wire, Levelflex M, Prosonic M.

Nr

35

Order code

52015586

Power supply CSA, 90-250VAC (housg F12)

Usage: electronics 4-wire, Levelflex M, Prosonic M.

Nr

35

Order code

52018949

Terminal mod. 4-pol.,EEx ia,HART,T12,OVP

4-pole, 2-wire. OVP = overvoltage protection. Usage: housing T12, Levelflex M, Prosonic M, Micropilot M.

Nr

35

Order code

52018950

Terminal mod. 2-p.,EEx ia,PA/FF,T12,OVP

2-pole, 2-wire. PROFIBUS PA, FOUNDATION Fieldbus. OVP = overvoltage protection. Usage: housing T12, Levelflex M, Prosonic M, Micropilot M.

Nr

35

Order code

71396869

Power supply 90-250VAC (F12) v2, Non-Ex

Power supply, HART, version 2. Only for "non ex area". Usage: FMU40/FMU41/FMU42/FMU43/FMU44.

Nr

30

Order code

71025600

Electronics FMU4x, Ex, 2-wire, HART,v4.0

4-20mA, version 4.0. Usage: FMU40/FMU41/FMU42/FMU43/FMU44.

Nr

30

Order code

71025602

Electronics FMU4x, Ex, 4-wire, HART,v4.0

4-20mA, version 4.0. Usage: FMU40/FMU41/FMU42/FMU43/FMU44.

Nr

30

Order code

71025603

Electronics FMU4x, Ex, PA, v4.0

PROFIBUS PA, version 4.0. Usage: FMU40/FMU41/FMU42/FMU43/FMU44.

Nr

30

Order code

71025604

Electronics FMU4x, Ex, FF, v4.0

FOUNDATION Fieldbus, version 4.0. Usage: FMU40/FMU41/FMU42/FMU43/FMU44.

Nr

40

Order code

52026443

Display VU331, version 2

Alphanumeric display, 4-line. Usage: FMR530/532/533, FMR540, FMU40/41/42/43/44.

Display FHX40

Remote display + local operation. 4-line LC-display. :: Menu driven plain text operation. :: Easy setup. :: User language selectable. :: Envelope curve display on site. Usage: FMG60, FMU40/FMU41/FMU42/FMU43/FMU44.

Mounting bracket FAU20

Material: 316Ti. Usage: mounting FMU42/FMU43/FMU44.

Cable FHX40, 5m

Connection cable, doubled shielded. Usage: FHX40.

Cable FHX40, 10m

Connection cable, doubled shielded. Usage: FHX40.

Cable FHX40, 30m

Connection cable, doubled shielded. Usage: FHX40.

ToF Adapter FXA291

Usage: connection Micropilot M, Micropilot S, Levelflex M, Prosonic M, Tank Side Monitor, Deltabar S, Cerabar S, Gammapilot M, Micropilot I, to Commubox FXA291.

Adapterk. FMR2xx,FMx4x,PMx7x,FMD7x,FMG60

Connection service tool RS232(52013675)/ ToF adapter FXA291 (71007843). Usage: FMG60, FMD77/FMD78, FMR230/ FMR231, FMR240/FMR244/FMR245, FMR250, FMU40/FMU41/FMU42/FMU43/FMU44, NRF590, PMC71, PMD75, PMP71/PMP75.

Mounting bracket FHX40 1" / 2" pipe

Usage: FHX40.

Protective cover for housing T12/F12, SS

Usage: Micropilot M, Micropilot S, Prosonic M, Levelflex M. Material: 316Ti.

Mounting bracket FAU 20_316TI