Connect your pressure measurement to the future
More IIoT - More productivity - More Process Safety
The new absolute/gauge and differential pressure transmitters Cerabar and Deltabar build a bridge to IIoT. Safety and productivity are no longer contradictory. In the chemical and the oil&gas industry more devices in safety critical systems will be required in the future. This will also increase the effort for proof tests. Cerabar and Deltabar relieve the burden on personnel through intelligent functions and thus save costs. The smart safety approach increases process safety and productivity.
Lợi ích
Unlock your IIoT potential: The Cerabar and Deltabar pressure gauges are a future proof investment. Equipped with Heartbeat Technology, they combine proven measurement technologies with IIoT applications. This e.g. enables predictive maintenance.

Increase your productivity: Optimized maintenance processes as well as predictive maintenance increase plant availability and promote efficient personnel deployment.

Improve your process safety: Digital wizards guide maintenance staff in a structured manner through safety-relevant operating processes and minimize human error. Process irregularities are detected early on.
Unlock your IIoT potential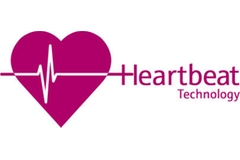 Heartbeat Technology is the basis for the realization of future-oriented IIoT strategies such as predictive maintenance or the detection of irregularities in the process. The new Cerabar and Deltabar pressure transmitters detect deviations in loop resistance or blocked impulse lines. They record additional measured variables such as pressure peaks. IIoT applications use this data to derive load profiles for surrounding plant components, thus enabling predictive maintenance.
Increased productivity through digitally optimized processes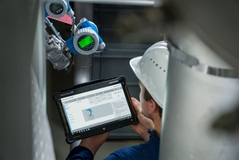 Cerabar and Deltabar can be configured and verified quickly and easily with the SmartBlue app via the Bluetooth® interface. Thanks to Heartbeat Technology, verification is completed in 15 seconds - without interrupting the process. The pressure gauges signal any anomalies by status messages in accordance with NAMUR NE107. The maintenance personnel know exactly what action to take, as the error codes are displayed in plain text. This optimizes processes and increases productivity.
Improve process safety with a smart approach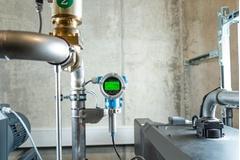 Intelligent functions minimize operating errors. Smart wizards guide maintenance personnel in a structured manner through commissioning, SIL locking and SIL proof tests. A checksum is formed for the safety-relevant parameters and noted in the verification report. Thus you can see at a glance whether parameters have been changed. Since the new generation was developed according to IEC61508, the pressure gauges can be used in SIL2 and (in homogeneous redundancy) in SIL3 applications.