Dissolved oxygen transmitter
Liquisys COM223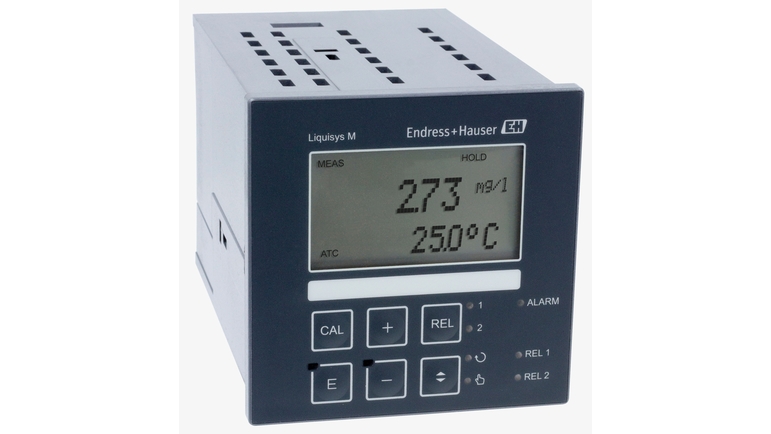 Compact panel device for water, wastewater, utilities and fish farming
Liquisys COM223 is a standard transmitter for use with COS41 and COS61 oxygen sensors. It improves your operational safety thanks to continuous plausibility, process and sensor checks. Select from numerous hardware and software modules, such as relays or fieldbus communication, to adapt it exactly to your measuring task. This modularity also allows you to upgrade the transmitter at any time. A simple menu and calibration make configuration and operation fast and easy.
Lựa chọn nhanh
Chọn trong số các tùy chọn do chúng tôi đề xuất
Cấu hình riêng
Tiếp tục lựa chọn từ tất cả các tùy chọn có thể
Lợi ích

More operational safety: Continuous process check system, customized alarm configuration, calibration plausibility check.

Reliable oxygen control: Current input for flow rate monitoring with controller shut off or for feedforward control.

Easy to operate...
Phạm vi ứng dụng

The Liquisys COM223 transmitter works with Oxymax COS41 and Oxymax COS61 dissolved oxygen sensors in environmental applications, such as:

O2 control in the aeration basin

O2 control and monitoring of drinking water

Surface water monitoring

Process...
Tài liệu / Tài liệu hướng dẫn / Phần mềm
Phụ kiện / Phụ tùng thay thế
Kit CXM2X3 Relaismod. 2rel

Upgrade of LIQUISYS-M basis version by 2 floating changeover contacts.

Nr

290

Order code

51511446

KIT CXM2X3 relay mod. 2rel / CSA

Upgrade of LIQUISYS-M basis version by 2 floating changeover contacts.

Nr

300

Order code

51500321

Kit CXM2X3 Relaismodule 4rel

Upgrade of LIQUISYS-M basic version by 4 floating changeover contacts.

Nr

300

Order code

51511447

KIT CXM2X3 relay mod. 4rel / CSA

Nr

290

Order code

51504304

Kit CXM2X3 Relais Mod. 2rel.+I/CSA

Upgrade of LIQUISYS-M basic version by 2 contacts and current input 4-20mA.

Nr

300

Order code

51504305

Kit CXM2X3 Relais Mod. 4Rel+I/CSA

Upgrade of LIQUISYS-M basic version by 4 contacts and current input 4-20mA.

Nr

20

Order code

51500318

KIT CxM2x3 power supply 24 AC/DC

KIT CxM2x3 power supply DC

Nr

250

Order code

51501207

KIT MKO1 Transmitter O2/Temperature

Nr

250

Order code

51501208

KIT MKO1 Transmitter O2/Temp./pressure

Nr

90

Order code

51502500

Kit COM2X3 central module Profibus DP

Nr

90

Order code

71134729

Kit COM2x3: Central mod. PB DP; H/W 2.1x

Nr

290

Order code

71134732

Kit CxM2x3: Relay mod. for PBDP; H/W2.1x

Content: 1x Relay module Profibus DP 2x Relay, 1x Current input DP connection qualified from H/W 2.10

Nr

424

Order code

51501204

KIT COM223 terminal strip set

Nr

424

Order code

51502127

KIT COM223 terminal strip Profibus PA

Nr

424

Order code

51502492

Kit COM223 terminal strip, Profibus DP

Upgrade "Plus-Package" for LIQUISYS-M

Upgrade of LIQUISYS-M basic version (parameter pH,Cond.,Tu,CL,O2 (WX to WS)) to S-version (plus-package). Serial number of instrument needed.

Upgrade "Plus-Package" for COM 2X3

Upgrade of Liquisys-M basic version (parameter DO (DX to DS)) to S-version (plus-package). Serial number of instrument needed.

Upgrade cleaning for LIQUISYS-M

Upgrade of LIQUISYS-M basic version by cleaning functionality (Chemoclean) (serial number of instrument needed). If not yet installed, a 4-relay board must be ordered separately (51500321).

Mounting bracket 96x96 Housing