1-channel transmitter
Liquiline CM14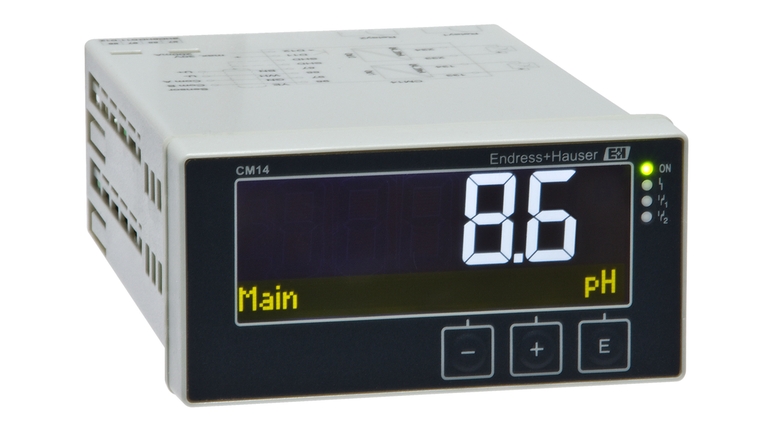 Compact panel device for the food, power, water and wastewater industries
Liquiline CM14 is a basic transmitter that offers all that you need to run a standard measuring point. It fits in the common cabinet cut-outs and is easy to commission thanks to Memosens digital technology. The Memosens hot plug and play concept allows you to quickly install and configure your digital pH/ORP, conductivity or dissolved oxygen sensors. Liquiline CM14 is compact, easy-to-operate, and cost efficient.
Lựa chọn nhanh
Chọn trong số các tùy chọn do chúng tôi đề xuất
Cấu hình riêng
Tiếp tục lựa chọn từ tất cả các tùy chọn có thể
Lợi ích

Saves space, saves money: Good price-performance ratio and small footprint – perfect for skids.

Easy to operate: Plug & play with pre-calibrated Memosens sensors.

Reliable and safe measurement: Memosens technology offers digital signal transmission and...
Phạm vi ứng dụng

The Liquiline CM14 panel transmitter is suitable for all applications in non-hazardous areas, for example in these industries and their utilities:

Food & Beverages

Power & Energy

Water & Wastewater

Liquiline CM14 features the following protocols and...
Tài liệu / Tài liệu hướng dẫn / Phần mềm
Phụ kiện / Phụ tùng thay thế
Terminal plug-in 3pol.for power supply

Ecograph/Memograph/S + Alphalog from unit No.410297XA RIA45, grey coloured connector

Terminal strip 4pole FMC1,5/4-ST-3,5

Memograph M for analog output (on digital I/O board) RIA45 for analog input non Ex (terminal x1,x2,x3,x4 + x5,x6,x7,x8)

Terminal strip 3 pole FKC2,5/3-ST-5,08

for relay 1 + 2 (two way)

Terminal strip 4pole space 3.81 non Ex

Terminal analog output 1 + status output (DI11,DI12,O15)