iTEMP TMT82
Temperature transmitter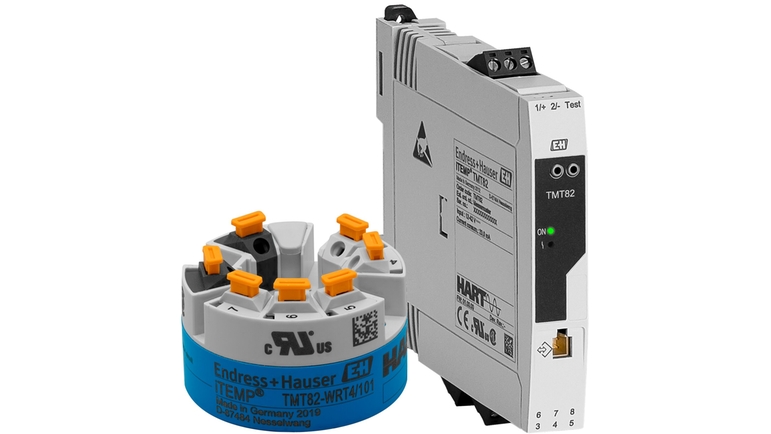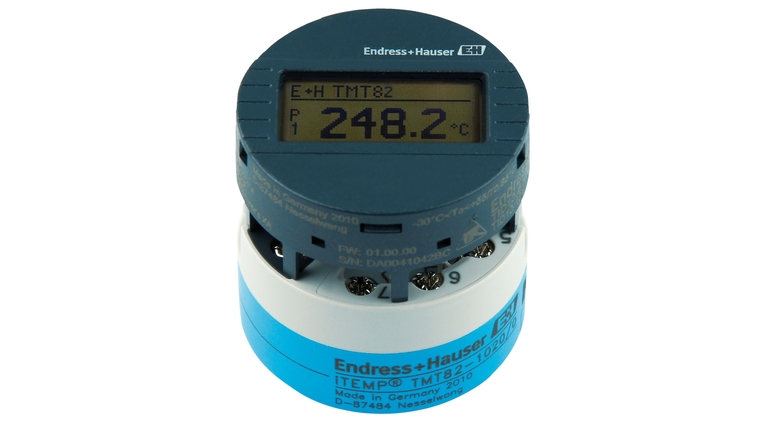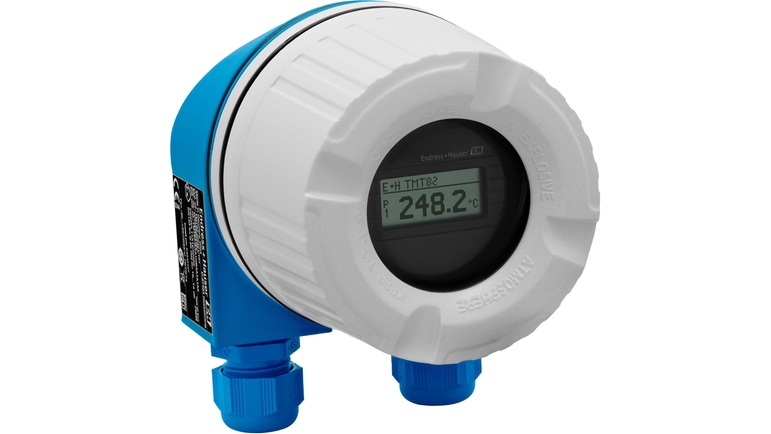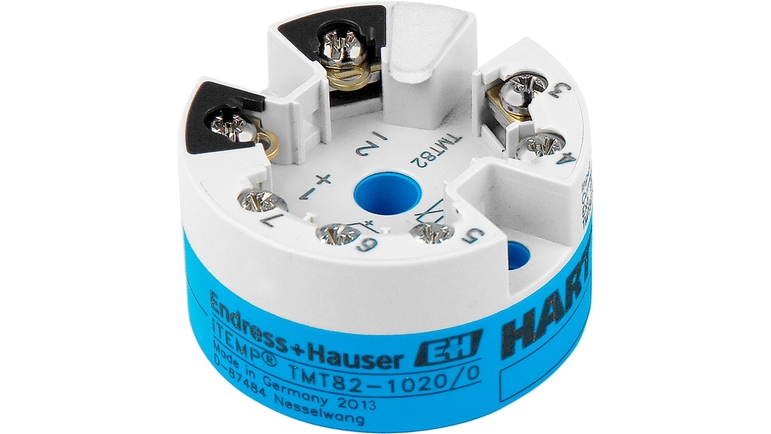 Transformation of sensor signals into stable and standardized output signals for all industries
Unsurpassed reliability, accuracy and long-term stability in critical processes over all industries. The configurable transmitter not only transfers converted signals from resistance thermometers (RTD) and thermocouples (TC), but also resistance and voltage signals using HART® communication. High measurement point availability by means of sensor monitoring functions. Diagnostics information according to NAMUR NE 107. Optimization of the measurement accuracy by sensor-transmitter matching.
Sản phẩm đơn giản

Dễ lựa chọn, cài đặt và vận hành
Công nghệ vượt trội
Đơn giản
Sản phẩm tiêu chuẩn

Đáng tin cậy, mạnh mẽ và ít bảo trì
Công nghệ vượt trội
Đơn giản
Sản phẩm cao cấp

Chức năng cao và tiện lợi
Công nghệ vượt trội
Đơn giản
Sản phẩm chuyên dụng

Dành cho các ứng dụng đòi hỏi cao
Công nghệ vượt trội
Đơn giản
Lựa chọn FLEX
Công nghệ vượt trội
Đơn giản

Lựa chọn Fundamental

Đáp ứng nhu cầu đo lường cơ bản

Công nghệ vượt trội

Đơn giản

Lựa chọn Lean

Xử lý dễ dàng các quy trình cốt lõi

Công nghệ vượt trội

Đơn giản

Lựa chọn Extended

Tối ưu hóa quy trình bằng công nghệ tiên tiến

Công nghệ vượt trội

Đơn giản

Lựa chọn Xpert

Làm chủ các ứng dụng khó khăn nhất

Công nghệ vượt trội

Đơn giản
Tổng quan về thông số kỹ thuật

Accuracy

(Pt100) <= 0,1K (digital) + 0,03% (set range)
Loading alternative products
Chọn nhanh
Chọn theo đề xuất của chúng tôi
Công cụ lựa chọn mã thiết bị
Tiếp tục lựa chọn từ tất cả tùy chọn có thể
Lợi ích

Certified up to SIL 2/3 - hardware/software - according to IEC 61508:2010

Safe operation in hazardous areas, international approvals such as FM IS, NI; CSA IS, NI; ATEX, NEPSI, IECEx Ex ia, Ex nA for intrinsically safe installation in zone 1 and zone 2;

...
Phạm vi ứng dụng

The device stands out due to signal reliability, long-term stability, high precision and advanced diagnostics (important in critical processes)


For the highest level of safety, availability and risk reduction

Universal input for RTD, TC, resistance...
Tài liệu / Tài liệu hướng dẫn / Phần mềm
Phụ kiện / Phụ tùng thay thế
The unit is not repairable

Fixing kit cpl.TMT82/85/84 (european)

2x screws, 2x springs, 2x spring rings, 1x sealing CDI-connector

Fixing kit cpl.TMT82/84/85 USA(american)

2x screws, 1x sealing CDI-connector

Set mounting bracket wall cpl. W06 std

Set mounting bracket pipe housing W06 st

Spare parts kit DIN rail terminal plug

TMT82

TID10 Service cable

Extension cable for the CDI-interface for remote operation of the TID10 display for service and maintenance work Length: 40cm.

DIN rail clip

according to IEC 60715 for temperature head transmitters.

Spare RFID TAG

Consists of: RFID TAG, fixing wire, crimp sleeve.

Commubox FXA195

Modem to connect HART field devices to a computer via USB. Commissioning of field devices with software tool. :: To connect to a intrinsically safe signal circuit. :: SIL2, IEC61508.

Display for head transmitter TID10

to plug on. Dot-Matrix measured value display. 12 DIP-switches buttom side. Settings: FF: Simulation, Write Lock. PA: Bus address, Write Lock. Compatible: TMT85, TMT84, TMT82.