Easytemp TMR35
Hygienic compact thermometer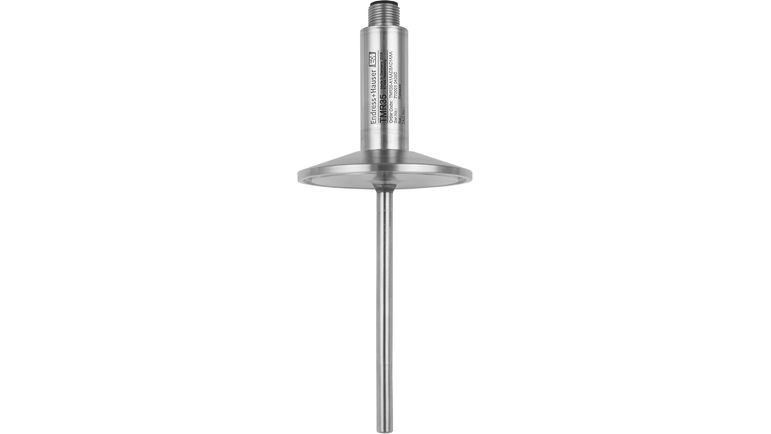 Compact, fast and precise for the measurement of process temperatures in hygienic applications
With cost efficiency, optimal use of space, reliable operation, easy commissioning and hygienic design the TMR35 fulfills all the requirements in the Food & Beverage as well as in the Life Science industries. A variety of hygienic process connections leads to a high flexibility.
Chọn nhanh
Chọn theo đề xuất của chúng tôi
Công cụ lựa chọn mã thiết bị
Tiếp tục lựa chọn từ tất cả tùy chọn có thể
Lợi ích

Small, compact design made entirely of stainless steel

Extremely short response times

Highly accurate even with short insertion lengths

4-wire, Pt100 or PC-programmable transmitter with 4 to 20 mA output

Configuration and visualization with ReadWin® 2000 PC...
Phạm vi ứng dụng

The Easytemp TMR35 compact thermometers are used to measure temperatures from -50 °C to +150 °C (-58 °F to +302 °F), or up to +200 °C (+392 °F) with neck. The most common installation locations are tanks and pipes. TMR35 with process connections for...
Tài liệu / Tài liệu hướng dẫn / Phần mềm
Phụ kiện / Phụ tùng thay thế
The unit is not repairable

Weld-in adapter G1, d=60, 316L

Flush mount process connection. Material: 316L. Seal: silicone O-ring. FDA, EHEDG, 3-A compliant. Usage: FMI51/FMI52, FTI51/FTI52, FTL20/FTL20H, FTL31/FTL33, FTL50/FTL50H/FTL51/FTL51C/FTL51H, FTL80/FTL81, FTL260, FTW23, FTW33, PMP23, PMP51, PMP135, PTP33B/PTP35. Usage: TM401/TM411, TMR35.

Weld-in adapter G3/4, d=55, 316L

Flush mount process connection. Material: 316L. Seal: silicone O-ring. FDA, EHEDG, 3-A compliant. Usage: FTL50/FTL50H, FTL80. Usage: TMR35.

Weld-in adapter G1, d=60, 316L, 3.1

Flush mount process connection. Material: 316L. Inspection cert. EN10204-3.1 material. Seal: silicone O-ring. FDA, EHEDG, 3-A compliant. Usage: FMI51/FMI52, FTI51/FTI52, FTL20H, FTL31/FTL33, FTL50/FTL50H/FTL51/FTL51C/FTL51H, FTL80/FTL81, FTL260, FTW23, FTW33, PMP23, PMP51, PMP135, PTP33B/PTP35. Usage: TM401/TM411, TMR35.

Weld-in adapter G3/4, 316L, 3.1

Flush mount process connection. Material: 316L. Inspection cert. EN10204-3.1 material. Seal: silicone O-ring. FDA, EHEDG, 3-A compliant. Usage: FTL50/FTL50H, FTL80. Usage: TMR35.

O-ring 28.17x3.53 VMQ, FDA, 5 pcs.

Material: silicone VMQ 70. Usage: weld-in adapter G1, 316L, (52001051) flush mount, FMI51/FMI52, FTI51/FTI52, FTL31/FTL33, FTW23/FTW33, PMP23, PMP51, PTP33B, FTL50/FTL50H/FTL51/FTL51H, FTL80/FTL81, QMW43, Weld-in adapter G1, 316L, 3.1, (52011896) flush mount, FMI51/FMI52, FTI51/FTI52, FTL31/FTL33, FTW23/FTW33, PMP23, PMP51, PTP33B, FTL50/FTL50H/FTL51/FTL51H, FTL80/FTL81,QMW43, sliding sleeve FTM21.

O-ring 21.89x2.62 VMQ, FDA, 5 pcs.

Material: silicone VMQ 70. Usage: weld-in adapter G3/4, 316L (52001052) flush mount, 316L, 3.1 (52011897) flush mount, FTL50/FTL50H/FTL51/FTL51H, FTL80/FTL81.

Weld-in adapter G3/4 d=50, 316L, 3.1

Flush mount process connection Material: 316L. Inspection cert. EN10204-3.1 material. Seal: silicone O-ring. FDA, EHEDG, 3-A compliant. Usage: FMI51, FTI51, FTL20/FTL20H, FTL31/FTL33, FTW23/FTW33, 11371. Usage: TMR35.

O-ring 14.9x2.7 VMQ, FDA, 5 pcs.

Material: silicone VMQ 75. Usage: Weld-in adapter G3/4, 316L, (71258355) vesselmounting, (71258357) pipe-mounting, flush mount, FTL31/FTL33, FTW23/FTW33, QMW43, Weld-in adapter G3/4, 316L, 3.1, (52018765) vesselmounting, (52028295) pipe-mounting, flush mount, FMI51, FTI51, FTL31/FTL33, FTW23/FTW33, QMW43.

G1/2 metal to metal weld in adapter

for connection with G1/2" female thread. Material 316L/1.4435. 2x leakage bore.

Thermowell TMR35 L= 83mm, G1/2, 316L

metal to metal, inner diameter 3mm.

Adapter Upgrade TXU10

4 pin plug to M12.

TAG print/configuration 2 x 18 char

iTHERM TT411 Thermowell

Thermowell with hygienic design. Metrical version for applications in the food/beverages and pharmaceutical industries.

Easytemp TMR35, compact thermometer

Sensor: Pt100 class A, fast response time. Output: Pt100 or 4-20mA (programmable via PC). GL (German Lloyd) Marine (max. insertion length 300mm). :: Hygienic applications.

Cordset 4p D18 IP69K

PVC cable, 4 x 0.34 mm2 (22 AWG) with M12x1 coupling nut from stainless steel; straight female connector type; screw plug; length 5 m (16.4 ft); IP69K.

Configuration kit TXU10-

for PC-programmable devices. set-up programme+interface cable for PC with USB-Port.

Accessories Datamanager RXU10