Silica analyzer
Liquiline System CA80SI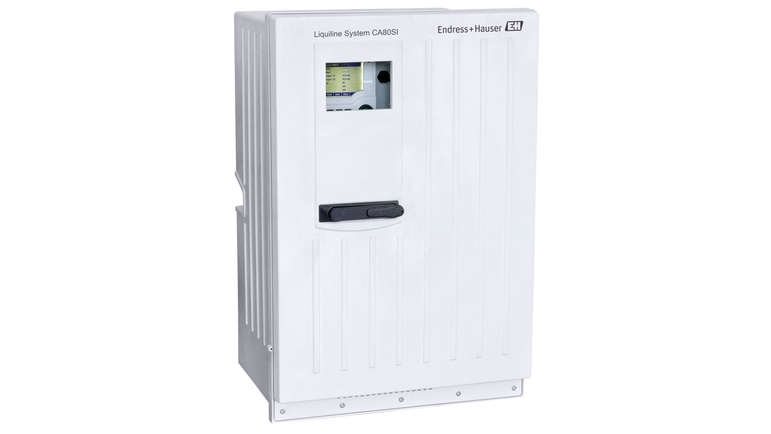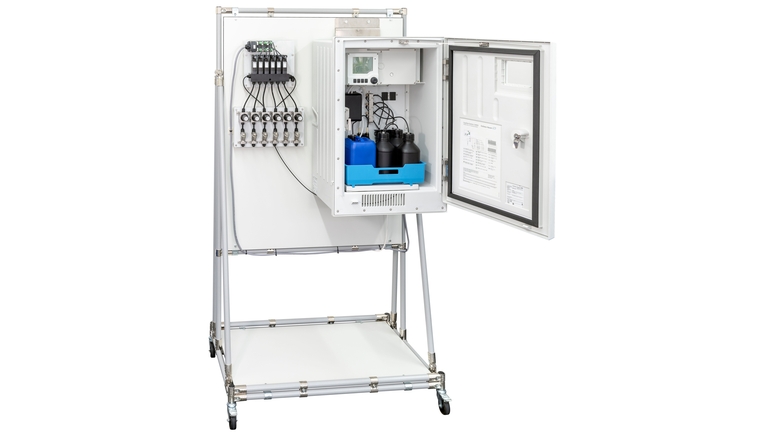 Colorimetric system for the monitoring of boiler feedwater, steam, condensate and ion exchangers
Liquiline System CA80SI provides precise online analysis of silica and helps protect plant equipment from glass-like deposits ensuring optimum performance of turbines and ion exchangers. Its unique combination of peristaltic and high-precision dispenser pumps enables extremely reliable operation and low maintenance. The silica analyzer offers advanced diagnostics and can be easily adapted to your process needs by retrofitting up to 6 channels and connecting up to 4 Memosens sensors.
Lựa chọn nhanh
Chọn trong số các tùy chọn do chúng tôi đề xuất
Cấu hình riêng
Tiếp tục lựa chọn từ tất cả các tùy chọn có thể
Lợi ích

Protection of expensive plant equipment in the power industry: The silica analyzer monitors trace levels of silica in water steam cycles helping to avoid glass-like deposits on the equipment surfaces.

Early online detection of critical silica levels...
Phạm vi ứng dụng

The CA80SI silica analyzer monitors trace levels of silica in the power industry and utilities:

Indication of the purity of boiler feed water and steam

Provision of early warning for condenser leaks

Early warning of exhaustion of ion exchangers
Tài liệu / Tài liệu hướng dẫn / Phần mềm
Phụ kiện / Phụ tùng thay thế
Maintenance booklet CA80xx for download

Reagent / Standard solution CY80SI

Reagent set for CA80SI with long shelf life or standard solution Contains dangerous goods

CAV800 Maintenance kit Liquisystem CA8x

Kits with all maintenance parts for Liquiline System CA8x analyzers Content: dispensers, hoses, connectors, O-ring for the sample collector, filter mats. Optional: in-and outlet hoses(PA), Liquidmanager without motor (PT) or 2 sample collector beakers(PV)

CAZ800 Upgrade Kit Liquiline System CA8x

Upgrade kits for Liquiline System CA8x analyzers. A release code will be generated. The input of the analyzer S/N is mandatory for the order.

Kit CA80SI capillaries incl. mounting

Kit CA80SI photometer cuvette

Kit CA80SI filter complete

Kit CA 15m hose Norprene ID 1.6mm

Kit CA 7.5m hose C-Flex ID 3.2mm

Safety bottle plastic black 1l

Safety bottle plastic without colour 1l

Kit: module ETH

(+Webserver) extendable via upgrade code to Modbus TCP or EtherNet/IP CM442/CM444/CM448/CSF48 CM442R/CM444R/CM448R

Kit: 1x set of terminals basic module

CM442/CM444/CM448/CSF48/CSP44

Kit: 1x set of terminals module AOR

CM442/CM444/CM448/CSF48

Kit: 1x set of terminals module 4R

CM442/CM444/CM448/CSF48

Kit: 1x set of terminals module 4AO

CM442/CM444/CM448/CSF48

Kit: 1x set of terminals module 2xAI,485

CM442/CM444/CM448/CSF48

Kit: 1x set of terminals module DIO

Kit: display cable

CM442/CM444/CM448/CSF48

SD-Card with Firmware, 1GB

Industrial Flash Drive, Liquiline firmware for 4-wire platform CM442 / CM444 / CM448 / CSF48

SD-Card, 1GB, Industrial Flash Drive

.

Kit CA80xx: 1x digital sensor inputs

Kit CA80xx: 2x digital sensor inputs

Kit : module AOR

2x Relay, 2x 0/4..20mA Out CM442 / CM444 / CM448 / CSF48 CM442R / CM444R / CM448R

Kit: module 2R

2x Relay CM442 / CM444 / CM448 / CSF48 CM442R / CM444R / CM448R

Kit: module 4R

4x Relay CM442 / CM444 / CM448 / CSF48

Kit: module 2AO

2x 0/4..20mA Out CM442 / CM444 / CM448 / CSF48 CM442R / CM444R / CM448R

Kit: module 4AO

4x 0/4..20mA Out CM442 / CM444 / CM448 / CSF48 CM442R / CM444R / CM448R

Nr

14

Order code

71135634

Kit: module 485

(+Webserver) Extendable via upgrade code to Profibus DP or Modbus RS485 or Modbus TCP or EtherNet/IP CM442/CM444/CM448/CSF48 CM442R/CM444R/CM448R

Nr

14

Order code

71135631

Kit: module 2DS

2x digital sensor CM442 / CM444 / CM448 / CSF48 CM442R / CM444R / CM448R

Nr

14

Order code

71135638

Kit: module DIO

2x digital in, 2x digital out CM442 / CM444 / CM448 / CSF48 CM442R / CM444R / CM448R

Upgrade Kit: Modul ETH + Modbus TCP

(+Webserver) CM442/CM444/CM448/CSF48 CM442R/CM444R/CM448R

Upgrade Kit: Modul ETH + EtherNet/IP

(+Webserver) CM442/CM444/CM448/CSF48 CM442R/CM444R/CM448R

Nr

14

Order code

71140888

Upgrade Kit: Modul 485 + Profibus DP

(+Webserver) CM442/CM444/CM448/CSF48 CM442R/CM444R/CM448R

Nr

14

Order code

71140889

Upgrade Kit: Modul 485 + Modbus RS485

(+Webserver) CM442/CM444/CM448/CSF48 CM442R/CM444R/CM448R

Upgrade code: Modbus TCP f.module ETH

Enter this code to change active fieldbus protocol to Modbus TCP (provide serial number of device) CM442/CM444/CM448/CSF48 CM442R/CM444R/CM448R

Upgrade code: EtherNet/IP for module ETH

Enter this code to change active fieldbus protocol to EtherNet/IP (provide serial number of device) CM442/CM444/CM448/CSF48 CM442R/CM444R/CM448R

Upgrade code: Profibus DP f. module 485

Enter this code to change active fieldbus protocol to Profibus DP (provide serial number of device) CM442 / CM444 / CM448 / CSF48 CM442R / CM444R / CM448R

Upgrade code: Modbus RS 485 f.module 485

Enter this code to change active fieldbus protocol to Modbus RS485 (provide serial number of device) CM442 / CM444 / CM448 / CSF48 CM442R / CM444R / CM448R

Kit module extention backplane

CM444/CM448/CSF48

Nr

14

Order code

71135639

Kit: module 2AI

2x 0/4..20mA In CM442 / CM444 / CM448 / CSF48 CM442R / CM444R / CM448R