COD analyzer
Liquiline System CA80COD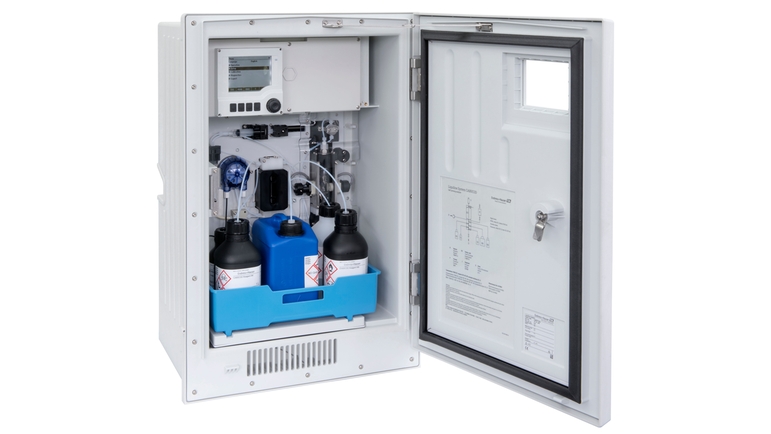 Analyzer for chemical oxygen demand in environmental monitoring, industrial and municipal wastewater
Liquiline System CA80COD offers constant online measurement of the chemical oxygen demand (COD). It supports you in monitoring the cleaning capacity of wastewater treatment plants and enables load-based billing for industrial dischargers. Automatic calibration and cleaning save operating costs while advanced diagnostics with remote access help to provide process documentation to authorities. The COD analyzer's software-controlled safety functions ensure the highest level of occupational safety.
Chọn nhanh
Chọn theo đề xuất của chúng tôi
Công cụ lựa chọn mã thiết bị
Tiếp tục lựa chọn từ tất cả tùy chọn có thể
Lợi ích

Established COD dichromate method directly comparable to laboratory results.

Meeting industry needs: The analyzer is perfectly suited for environmental monitoring, industrial and municipal wastewater.

Fast and easy process integration: Direct...
Phạm vi ứng dụng

The Liquiline System COD analyzer monitors:

Inlet and outlet of wastewater treatment plants for documentation purposes and calculation of the cleaning capacity

Discharges of industrial wastewater treatment plants to determine discharge fees and to...
Tài liệu / Tài liệu hướng dẫn / Phần mềm
Phụ kiện / Phụ tùng thay thế
Maintenance booklet CA80xx for download

Reagent / Standard solution CY80COD

Reagent set, respectively standard solution, for Liquiline System CA80COD Contains dangerous goods

CAV880 Maint. kit CA80 sum parameters

CAV880 wear parts CA80 sum parameters

Safety bottle plastic black 1l

Safety bottle plastic without colour 1l

Nr

210

Order code

71431075

Kit CA80COD: waste hose

Only use with new waste valve 71431077 Kit CA80COD: waste valve!

Kit CA80COD/TP: PTFE hose (5 m)

Kit CA80COD/TP: hose connectors (20 pcs)

Nr

217

Order code

71431081

Kit CA80COD/TP: dilution valve

Only use with 71324153 Kit CA80COD/TP: Pharmed hose (2 m)!

Nr

215

Order code

71431077

Kit CA80COD: waste valve

Only use with new waste hose 71431075 Kit CA80COD: Use the waste hose!

Nr

305

Order code

71272410

Kit: module ETH

(+Webserver) extendable via upgrade code to Modbus TCP or EtherNet/IP CM442/CM444/CM448/CSF48 CM442R/CM444R/CM448R

Kit CA80COD/TP light bar. linear drive

Kit: 1x set of terminals basic module

CM442/CM444/CM448/CSF48/CSP44

Kit: 1x set of terminals module AOR

CM442/CM444/CM448/CSF48

Kit: 1x set of terminals module 4R

CM442/CM444/CM448/CSF48

Kit: 1x set of terminals module 4AO

CM442/CM444/CM448/CSF48

Kit: 1x set of terminals module 2xAI,485

CM442/CM444/CM448/CSF48

Kit: 1x set of terminals module DIO

Nr

313

Order code

71127100

SD-Card with Firmware, 1GB

Industrial Flash Drive, Liquiline firmware for 4-wire platform CM442 / CM444 / CM448 / CSF48

Kit CA80xx: 1x digital sensor inputs

Kit CA80xx: 2x digital sensor inputs

Nr

315

Order code

71111053

Kit : module AOR

2x Relay, 2x 0/4..20mA Out CM442 / CM444 / CM448 / CSF48 CM442R / CM444R / CM448R

Nr

316

Order code

71125375

Kit: module 2R

2x Relay CM442 / CM444 / CM448 / CSF48 CM442R / CM444R / CM448R

Nr

317

Order code

71125376

Kit: module 4R

4x Relay CM442 / CM444 / CM448 / CSF48

Nr

318

Order code

71135632

Kit: module 2AO

2x 0/4..20mA Out CM442 / CM444 / CM448 / CSF48 CM442R / CM444R / CM448R

Nr

319

Order code

71135633

Kit: module 4AO

4x 0/4..20mA Out CM442 / CM444 / CM448 / CSF48 CM442R / CM444R / CM448R

Nr

320

Order code

71135634

Kit: module 485

(+Webserver) Extendable via upgrade code to Profibus DP or Modbus RS485 or Modbus TCP or EtherNet/IP CM442/CM444/CM448/CSF48 CM442R/CM444R/CM448R

Nr

323

Order code

71135631

Kit: module 2DS

2x digital sensor CM442 / CM444 / CM448 / CSF48 CM442R / CM444R / CM448R

Nr

324

Order code

71135638

Kit: module DIO

2x digital in, 2x digital out CM442 / CM444 / CM448 / CSF48 CM442R / CM444R / CM448R

Nr

305

Order code

71279809

Upgrade Kit: Modul ETH + Modbus TCP

(+Webserver) CM442/CM444/CM448/CSF48 CM442R/CM444R/CM448R

Nr

305

Order code

71279812

Upgrade Kit: Modul ETH + EtherNet/IP

(+Webserver) CM442/CM444/CM448/CSF48 CM442R/CM444R/CM448R

Nr

320

Order code

71140888

Upgrade Kit: Modul 485 + Profibus DP

(+Webserver) CM442/CM444/CM448/CSF48 CM442R/CM444R/CM448R

Nr

320

Order code

71140889

Upgrade Kit: Modul 485 + Modbus RS485

(+Webserver) CM442/CM444/CM448/CSF48 CM442R/CM444R/CM448R

Upgrade code: Modbus TCP f.module ETH

Enter this code to change active fieldbus protocol to Modbus TCP (provide serial number of device) CM442/CM444/CM448/CSF48 CM442R/CM444R/CM448R

Upgrade code: EtherNet/IP for module ETH

Enter this code to change active fieldbus protocol to EtherNet/IP (provide serial number of device) CM442/CM444/CM448/CSF48 CM442R/CM444R/CM448R

Upgrade code: Profibus DP f. module 485

Enter this code to change active fieldbus protocol to Profibus DP (provide serial number of device) CM442 / CM444 / CM448 / CSF48 CM442R / CM444R / CM448R

Upgrade code: Modbus RS 485 f.module 485

Enter this code to change active fieldbus protocol to Modbus RS485 (provide serial number of device) CM442 / CM444 / CM448 / CSF48 CM442R / CM444R / CM448R

Upgrade code: EtherNet/IP f.module 485

Enter this code to change active fieldbus protocol to EtherNet/IP (provide serial number of device) CM442/CM444/CM448/CSF48 CM442R/CM444R/CM448R

Nr

321

Order code

71141366

Kit module extention backplane

CM444/CM448/CSF48

Nr

322

Order code

71135639

Kit: module 2AI

2x 0/4..20mA In CM442 / CM444 / CM448 / CSF48 CM442R / CM444R / CM448R