4-channel transmitter
Liquiline CM444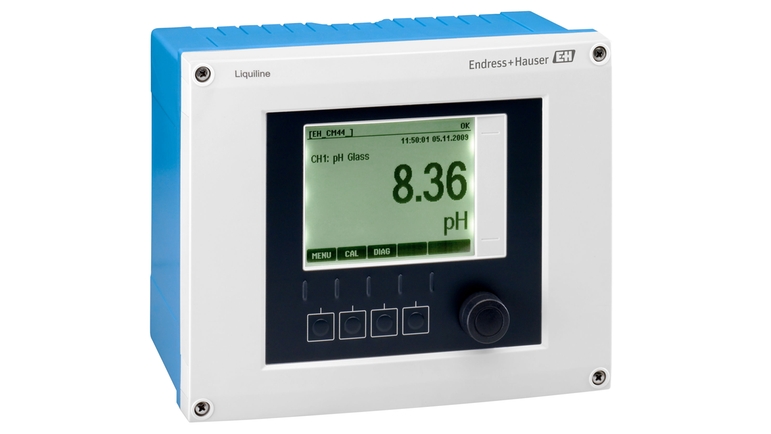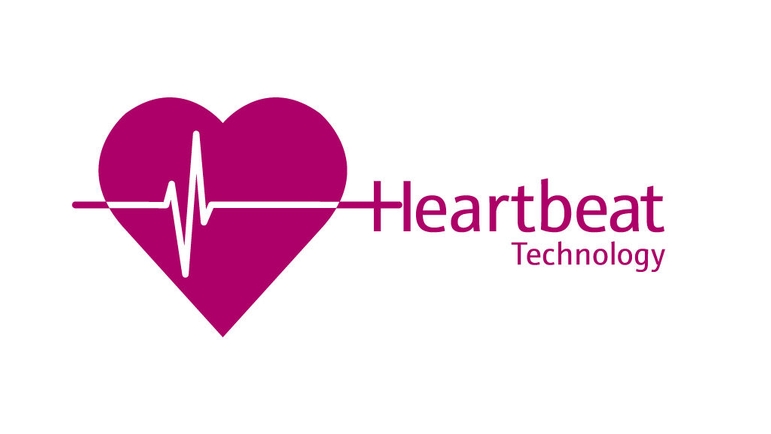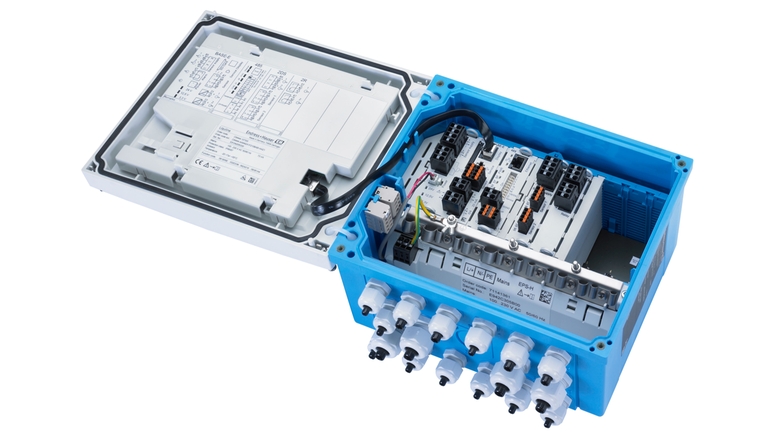 Expandable multiparameter field device for all industries
Liquiline CM444 is a digital multiparameter transmitter for process monitoring and controlling in any application. Modules can be added at any time to fit your process. The 4-channel controller saves you time and money by offering seamless system integration, simple operation and a reduced need for spare part stock. Liquiline CM444 provides you with all the benefits of a best-in-class transmitter platform from clever simplicity to maximum process safety.
Chọn nhanh
Chọn theo đề xuất của chúng tôi
Công cụ lựa chọn mã thiết bị
Tiếp tục lựa chọn từ tất cả tùy chọn có thể
Lợi ích

Clever simplicity:
One controller for all parameters and applications, intuitive user interface, automatic sensor recognition, hot plug & play with pre-calibrated Memosens sensors.

Highest flexibility:
Universal modules for all parameters minimize...
Phạm vi ứng dụng

The Liquiline CM444 multiparameter transmitter is suitable for all applications in non-hazardous areas, for example in these industries and their utilities:

Food & Beverages

Life Sciences

Power & Energy

Water & Wastewater

Chemicals

Liquiline CM444...
Tài liệu / Tài liệu hướng dẫn / Phần mềm
Phụ kiện / Phụ tùng thay thế
Kit base module BASE-E

2x 0/4..20 mA out, alarm relay 2x digital sensor, with connection cable CM444/CM448

Nr

14

Order code

71272410

Kit: module ETH

(+Webserver) extendable via upgrade code to Modbus TCP or EtherNet/IP CM442/CM444/CM448/CSF48 CM442R/CM444R/CM448R

Nr

14

Order code

71111053

Kit : module AOR

2x Relay, 2x 0/4..20mA Out CM442 / CM444 / CM448 / CSF48 CM442R / CM444R / CM448R

Nr

14

Order code

71125375

Kit: module 2R

2x Relay CM442 / CM444 / CM448 / CSF48 CM442R / CM444R / CM448R

Nr

14

Order code

71125376

Kit: module 4R

4x Relay CM442 / CM444 / CM448 / CSF48

Nr

14

Order code

71135631

Kit: module 2DS

2x digital sensor CM442 / CM444 / CM448 / CSF48 CM442R / CM444R / CM448R

Nr

14

Order code

71135632

Kit: module 2AO

2x 0/4..20mA Out CM442 / CM444 / CM448 / CSF48 CM442R / CM444R / CM448R

Nr

14

Order code

71135633

Kit: module 4AO

4x 0/4..20mA Out CM442 / CM444 / CM448 / CSF48 CM442R / CM444R / CM448R

Nr

14

Order code

71135634

Kit: module 485

(+Webserver) Extendable via upgrade code to Profibus DP or Modbus RS485 or Modbus TCP or EtherNet/IP CM442/CM444/CM448/CSF48 CM442R/CM444R/CM448R

Nr

14

Order code

71135639

Kit: module 2AI

2x 0/4..20mA In CM442 / CM444 / CM448 / CSF48 CM442R / CM444R / CM448R

Nr

14

Order code

71135638

Kit: module DIO

2x digital in, 2x digital out CM442 / CM444 / CM448 / CSF48 CM442R / CM444R / CM448R

Nr

14

Order code

71140888

Upgrade Kit: Modul 485 + Profibus DP

(+Webserver) CM442/CM444/CM448/CSF48 CM442R/CM444R/CM448R

Nr

14

Order code

71140889

Upgrade Kit: Modul 485 + Modbus RS485

(+Webserver) CM442/CM444/CM448/CSF48 CM442R/CM444R/CM448R

Nr

14

Order code

71279809

Upgrade Kit: Modul ETH + Modbus TCP

(+Webserver) CM442/CM444/CM448/CSF48 CM442R/CM444R/CM448R

Nr

14

Order code

71279812

Upgrade Kit: Modul ETH + EtherNet/IP

(+Webserver) CM442/CM444/CM448/CSF48 CM442R/CM444R/CM448R

Kit CM44x: Cover complete with display

CM442/CM444/CM448

Kit CM44x:Cover with knob, no display

w/o display module!

Kit: power distribution terminals

CM442/CM444/CM448

Kit: field housing lower part plastic

CM442/CM444/CM448

Nr

10,12

Order code

71101765

Kit: mechanical inner housing parts

Cable mounting rail with double clamps Insert side panels CM442/CM444/CM448

Nr

15

Order code

71101768

Kit: set cable glands M complete

complete set for field housing CM442/CM444/CM448

Nr

15

Order code

71101770

Kit: Set cable glands NPT complete

complete set for field housing CM442/CM444/CM448

Nr

15

Order code

71101771

Kit: Set cable glands G complete

complete set for field housing CM442/CM444/CM448

Kit: 6x closing plugs for cable entry

CM442 / CM444 / CM448

Kit: 1x set of terminals basic module

CM442/CM444/CM448/CSF48/CSP44

Kit: 1x set of terminals module AOR

CM442/CM444/CM448/CSF48

Kit: 1x set of terminals module 4R

CM442/CM444/CM448/CSF48

Kit: 1x set of terminals module 4AO

CM442/CM444/CM448/CSF48

Kit: 1x set of terminals module 2xAI,485

CM442/CM444/CM448/CSF48

Kit: 1x set of terminals module DIO

Kit: Set wiring stickers CM44x modules

Kit: Set 10x hinges for housingcover

CM442/CM444/CM448

Nr

6,13

Order code

71107455

Kit: set 5end and blind cover

CM442/CM444/CM448/CSF48

Nr

16

Order code

71107456

Kit: M12 external jack f. digital sensor

fully assembled CM442 / CM444 / CM448

Kit M12 ext.jack ProfibusDP/Modbus RS485

B-coded, fully assembled CM442/CM444/CM448/CSF48

Kit: M12 external jack for Ethernet

D-coded, fully assembled CM442/CM444/CM448/CSF48

Upgrade code: HART

digital communication (provide serial number of device) CM442 / CM444 / CM448 / CSF48 CM442R / CM444R / CM448R

Upgrade code: Profibus DP f. module 485

Enter this code to change active fieldbus protocol to Profibus DP (provide serial number of device) CM442 / CM444 / CM448 / CSF48 CM442R / CM444R / CM448R

Upgrade code: Modbus RS 485 f.module 485

Enter this code to change active fieldbus protocol to Modbus RS485 (provide serial number of device) CM442 / CM444 / CM448 / CSF48 CM442R / CM444R / CM448R

Upgrade code: Modbus TCP f.module 485

Enter this code to change active fieldbus protocol to Modbus TCP (provide serial number of device) CM442 / CM444 / CM448 / CSF48 CM442R / CM444R / CM448R

Upgrade code: 2x 0/4..20mA Output

for module BASE-E (provide serial number of device) CM444 / CM448 / CM444R / CM448R

Upgrade code: Feedforward control

Upgrade code: Feedforward control requires 0/4..20mA Input or digital communication (provide serial number of device) CM442/CM444/CM448/CSF48 CM442R/CM444R-CM448R

Upgrade code: Measuring Range Switch

Upgrade code: Measuring Range Switch requires digital Input or digital communication (provide serial number of device CM442/CM444/CM448/CSF48 CM442R/CM444R/CM448R

Upgrade code: EtherNet/IP f.module 485

Enter this code to change active fieldbus protocol to EtherNet/IP (provide serial number of device) CM442/CM444/CM448/CSF48 CM442R/CM444R/CM448R

Upgrade code: Chemoclean Plus

requires relays or digital outputs or digital fieldbus communication and optional digital inputs (provide serial number of device) CM442/CM444/CM448/CSF48 CM442R/CM444R/CM448R

Upgrade code: Modbus TCP f.module ETH

Enter this code to change active fieldbus protocol to Modbus TCP (provide serial number of device) CM442/CM444/CM448/CSF48 CM442R/CM444R/CM448R

Upgrade code: EtherNet/IP for module ETH

Enter this code to change active fieldbus protocol to EtherNet/IP (provide serial number of device) CM442/CM444/CM448/CSF48 CM442R/CM444R/CM448R

Upgradecode Heartbeat Verifi.+Monitoring

(provide serial number of device) CM442/CM444/CM448/CSF48/CA80 CM442R/CM444R/CM448R

Upgr.code:EtherNet/IP+Webserver f. BASE2

Upgr.code: Modbus TCP+Webserver f. BASE2

Upgrade code: Webserver for BASE2

Upgr.code: PROFINET+Webserver for BASE2

SD-Card, 1GB, Industrial Flash Drive

.

SD-Card with Firmware, 1GB

Industrial Flash Drive, Liquiline firmware for 4-wire platform CM442 / CM444 / CM448 / CSF48

Kit: external CDI jack complete

Retrofit for CDI-interface connection, with ready-made cable ends. CM42 / CM442 / CM444 / CM448 / CSF48

Spare RFID TAG

Consists of: RFID TAG, fixing wire, crimp sleeve.

Stainless steel 1.4301, 320x300x270mm

Velco cable connector, 4 pieces

4 pieces, for sensor cable

Pipe mounting kit CM442/CM444/CM448

Marking Tagging (Attention: select option and enter text in 995)